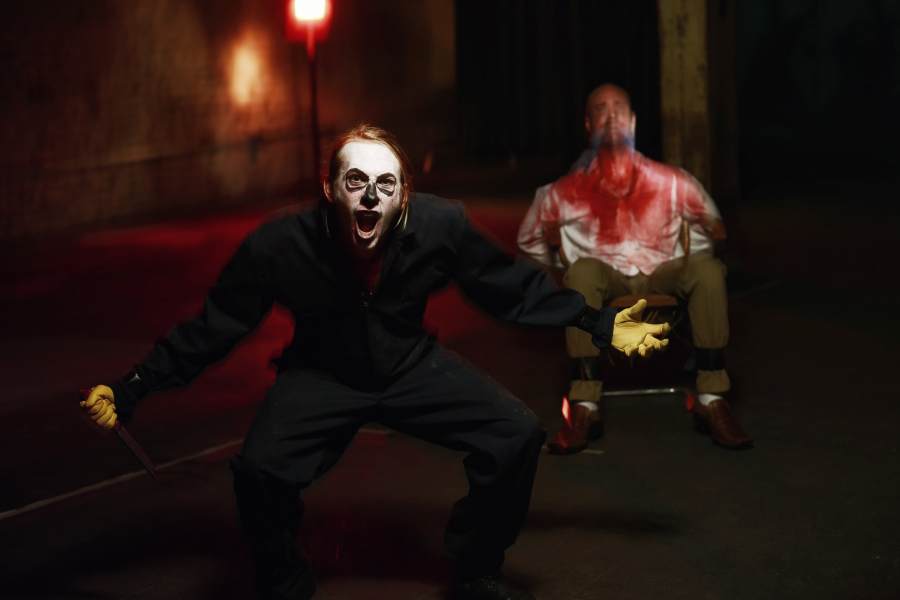 This is Real is a scary, heart-pounding experience that starts as soon as you approach the warehouse where it begins deep in Red Hook.  When you arrive, you're given a waiver to sign followed by a one-page description of what will happen to you once you go inside.  After reading what was going to happen, I was already feeling my adrenaline start to flow and starting to worry.
You're then led inside and see the seven other people who will be abducted along with you.  You slip into your uniform of gray overalls that you wear on top of your street clothes.  And you leave all bags, coats and other items behind. (Any valuables can be stored in a locked bag for which you'll hold the key.)  Everyone introduces themselves by their first names so you know who you'll would be working with to try to escape the room.
Then it starts and the terror begins.  You realize that you've been split into two groups of four.  You're in a locked cage and three of the others are in adjacent locked cages.  One of the madmen is torturing someone right outside and you see/hear the guy's screams of agony.  Then the madman leaves and it's time to start planning your escape.  Time is of the essence as you're racing against the clock.
Look all around you, all over the room, to see what you can do to help escape the room and then escape from the building.  It's not as easy as it sounds.  I was overlooking quite a few things and I was lucky that some of the three people I was with were able to figure a few things out.  When you make a certain mistake, the madman screams out that you "die".  You are given three times to "die" and then it is game over for you.  Each time that you are given a "death", a staff member comes out and gives you a hint as to what you might do to try to succeed.  If you absolutely cannot stand it and need to leave, there are several emergency exits that are marked, but you then forfeit the entire game.
After one mistake I made in the heat of the moment, I was taken to another room by myself with a different madman and I was told to scream out so that the others could hear me to try to rescue me.  Meanwhile, the others were still busy trying to plan their escape.  I almost made it all the way out, but then made a different mistake at the very end.  It's easy to make a wrong decision or overlook something, and your heart is racing the entire time.  Three out of the eight people were able to escape in our group.
It's truly an engaging fun experience and I highly recommend it.  You may want to wear shorts and a t-shirt, as the uniform of gray overalls is very warm and my t-shirt was drenched in sweat at the very end.  We were reunited with everyone at the end and sharing our experiences.  A perfect terror for the Halloween season.