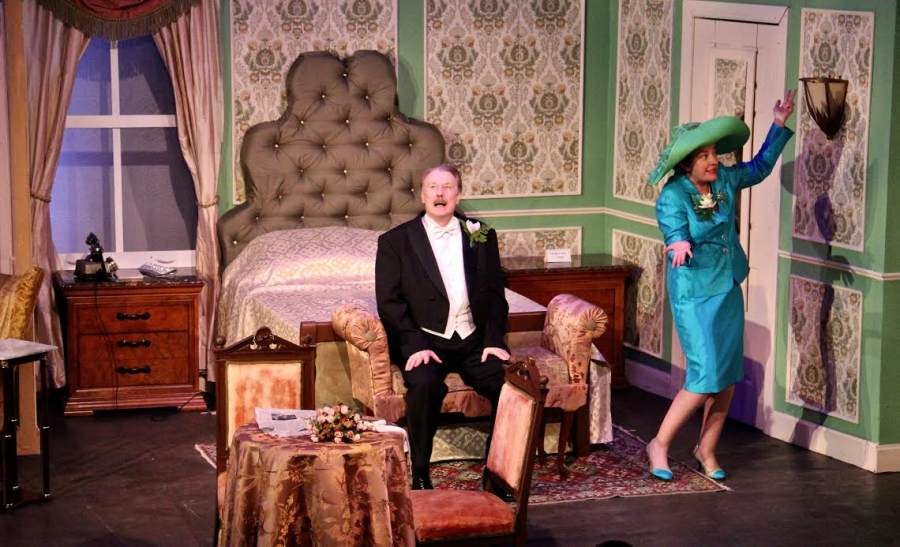 Three separate couples occupy room 719 at the Plaza Hotel on different days in 1966 to hilarious effect in Neil Simon's classic three-act comedy Plaza Suite. Directed by Alexander Harrington and presented by The Gallery Players in Park Slope, a common theme throughout the three distinct plays is marital unhappiness and the passage of time highlighting this unhappiness.
The opening act, and the strongest of the three, is "Visitor from Mamaroneck" in which a middle-aged couple from the suburbs stays in suite 719 on the eve of their 23rd wedding anniversary. Ostensibly there to let their house dry after being painted, Karen (Alyssa Simon) hopes to rekindle the spark that has been missing in her marriage to Sam (Robert McEvily) by booking the same room in which they spent their honeymoon 23 years earlier. The surly, distracted Sam has other plans, however, as Karen flits about the room trying to get his attention.
In "Visitor from Hollywood," Jesse (McEvily), a famous Hollywood producer from New Jersey, summons his high school sweetheart, Muriel (Taylor Graves), to the Plaza in an attempt to seduce the woman he hopes can redeem his three failed marriages. Muriel, married with two children, is starstruck by her former flame and can't seem to make up her mind over whether she's going to succumb or not. Both idealize the other to the extent they don't realize they are just using each other.
In the final act, "Visitor from Forest Hills," Norma (Simon) and Roy (Mitch Tebo) desperately try to coax their daughter, Mimsey (Graves), who's locked herself in the bathroom, out on her wedding day. The bickering couple go to great lengths and endure great injury and embarrassment to get their daughter to marry Borden (Jim deProphetis). But they are too wrapped up in suffering the indignity of a canceled wedding that they can't see how their behavior is pushing their daughter further away from marriage.
Supporting the charming cast is the impressive set (set designer, Robert Sebes), evoking the sumptuous design and period furnishings that one can imagine in the Plaza Hotel of the 1960s. Similarly, costume designer Joseph S. Blaha has outfitted the cast wonderfully with the pencil skirts, suits, dresses, and accessories of the time period.
The way Neil Simon satirizes marriage may not be new to us in 2018, but the frankness of the discussion of infidelity, sex, and marriage at the time must have been groundbreaking. Although Plaza Suite does seem a bit dated, the underlying theme of the elusiveness of marital bliss still resonates today. And it still makes for an entertaining evening of theatre.