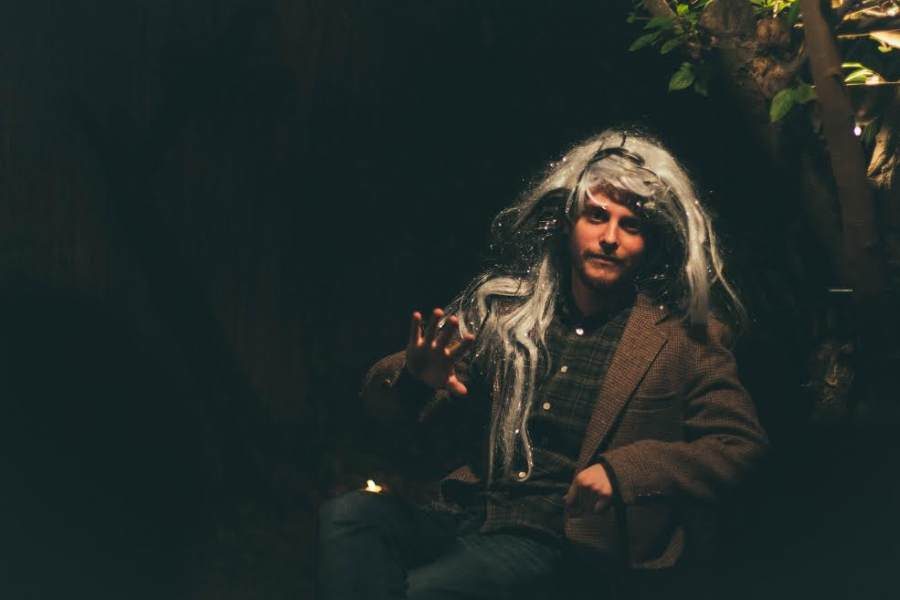 It's not everyday you get to walk through a random Bushwick apartment, step out into a verdant backyard decorated with fairy lights, and be treated to a play by firelight. This rare treat is brought to you by Upstream Artists' Collective and Brooklyn Yard in a series of short plays, spoken word, music and poetry called This One Time in Nature and other big thoughts over a small fire. The casual and interactive nature of these "works in progress" makes it feel more like a hangout of friends singing songs around a fire, having a drink from the backyard bar (your first is gratis), and eating s'mores (the abundant supply of marshmallows, chocolate and grahams are generously provided by the Collective).
The presentation of This One Time in Nature is part of Climate Change Theatre Action, which is a series of readings and performances about climate change being presented worldwide in support of the United Nations Climate Change Conference. This jives with Upstream Artists' Collective dedication to presenting works reflecting humanity's challenges with the effects of climate change. Director Keith Paul Medelis, also Artistic Director of Upstream Artists' Collective, made a bold choice to present the plays outdoors in October but, in an appropriately ironic way, this night felt more like July.
The first piece of the evening, Great Great, written and performed by Benjamin Weiner, is a humorous and bizarre take on the future of mankind. In it, Weiner plays a silver-wigged woman with a vaguely German accent who time-travels and, using a hand puppet, speaks to an audience member as his great-great grandson. What starts as a supremely silly premise turns into a moving tribute to future generations. Suffice it to say that by the end of the piece, you will have written a letter to your own future great-great grandchild.
This One Time in Nature is an autobiographical piece written and performed by Eliza Bent. Taking pieces of paper pinned to a tree, each bearing the name of a different hurricane, Bent speaks about her experience of each one, from being a little girl in Cape Cod during Gloria to a 30-year-old who just moved in with her boyfriend, now husband, during Sandy. Wonderfully relatable and funny, Bent takes each disaster and puts a personal spin on them.
Throughout the evening, the audience is treated to the lovely musical stylings of singer/guitarist Jane Bruce, including a terrifying and gorgeous musical poem Gaia, with lyrics by Hiro Kanagawa. Also recited is Bare Spaces by Ugandan playwright Angella J. Emurwon, another poem that speaks to nature's complexity.
If the warmth of the night air in Autumn doesn't alert you to the reality of climate change, nothing will. But the smell of smoke in your hair and clothing are sure to remind you of that one time in nature when you sat around a fire, shared stories, and enjoyed humanity.