Review: Performance Artist John Kelly Recreates His Lively Career in 'Time No Line'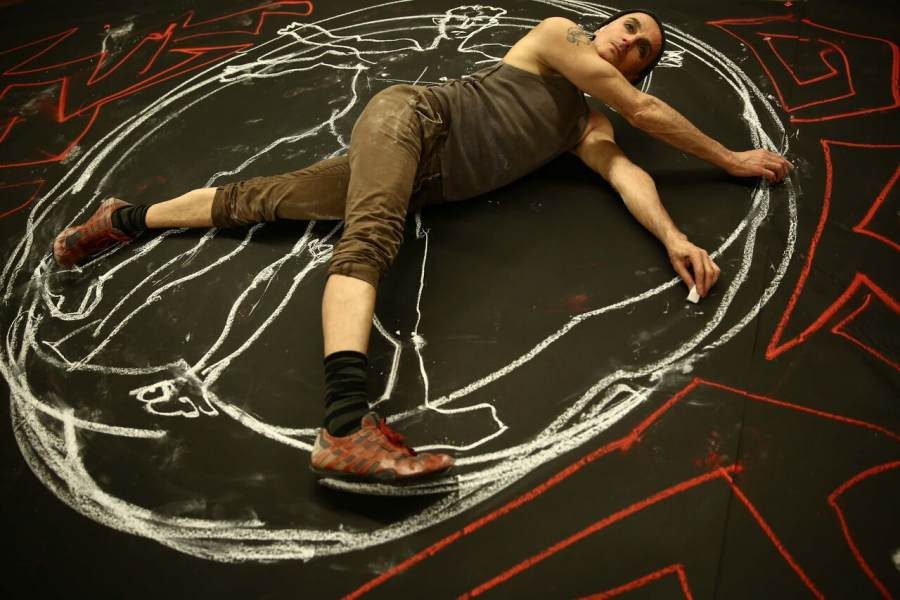 The downtown New York City art scene comes alive in performance artist John Kelly's multimedia solo show, Time No Line, playing at La MaMa. A play on the word timeline, Time No Line incorporates Kelly's own personal journals from the past 40 years to create a live memoir of a career that took many twists and turns.
Using movement, video, text, dance, and song, Kelly recreates moments of his storied career as a performance and visual artist in the queer art and drag scene in New York City. Starting with his move from New Jersey to New York in 1971 as a 17-year-old ballet dancer, to his pursuit of the visual arts attempting to paint like Egon Schiele, and finally to his discovery of drag and performance art, Kelly introduces the audience to some of the characters he's created. These include Dagmar Onassis, the fictional daughter of renowned opera singer Maria Callas and, most notably, Joni Mitchell, whom he has impersonated for many years in various shows both in and out of drag.
Throughout Time No Line, we see a crossover of high art and punk rock. Kelly is an opera devotee and often speaks of his admiration for soprano Maria Callas. At these times, the stories are a bit high-minded, coming from a place of privilege, and he often refers to obscure artists and figures he's met and worked with throughout the years. But his alternative punk side, somewhat subversive even as he dons a blonde wig as Joni Mitchell, is still his most exciting. His accessibility increases even more when he stops reading from the pages in his journal and addresses the audience somewhat intimately.
Despite this narrative mismatch, some of the visual aspects of Time No Line are quite intriguing. At several points throughout the show Kelly does live chalk drawings on the floor while sprawled out, sometimes in various shapes like a clock, his legs jutting out at different angles, sometimes lying on his back like in a dance. This kind of performative visual art makes you appreciate his imaginative artistic mind.
But this is a very personal show and Kelly being a gay artist in the 1980s and 90s, of course AIDS plays a big role in the narrative. He speaks of loved ones, colleagues, and friends lost to the epidemic. He refers to himself as a survivor, someone who needs to carry these stories on. With Time No Line, I'd say he does them justice.