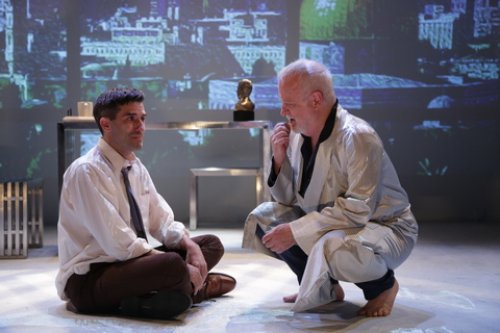 Robert Patrick's Judas comes to us from 1973, the same year in which his most famous drama, Kennedy's Children, was first produced. Judas is a sort of modern-dress passion play—it traces Biblical events from the death of John the Baptist up to the crucifixion of Jesus Christ. It's a lengthy and verbose script, but the current revival—by Phoenix Theatre Ensemble under the direction of Craig Smith—brings out its strengths, which are considerable. Judas looks at how a young mystic becomes a sacrificial lamb and hints at how the seeds of a major world religion will quickly sprout once he's gone. I found the play compelling, and I'm surprised it isn't better known or more widely produced. A play of ideas, it frequently suggests the heft, the depth, and the wit of Shavian drama.
Pontius Pilate (Smith) is the Roman prefect for Judea. Using binoculars to peer out from his tower at the Jerusalem cityscape, he is determined to keep order in this metropolis populated by competing religious sects. Pilate often seems high-handed, but he can also be compassionate.
Jesus (Jeffrey Mark Alkins) is largely an unknown quantity at the play's opening—he's a charismatic spiritualist whiz kid, but one still reluctant to meet his destiny. He's not, of course, solely interested in earthly power. He feels that the kingdom of heaven is something "within"—something to which everyone has access. But then there's his mother, Mary (the excellent Elise Stone). She's the quintessential Stage Mom of Judean politics—seeing in Jesus the fulfillment of a prophecy concerning the emergence of the King of the Jews. And time seems ripe for someone like Jesus to take the political reins, as the followers of the lately decapitated John the Baptist are on the lookout for a new champion. Although Mary's sensible, unassuming husband, Joseph (Craig Anthony Bannister), insists that she ratchet down her ambitions a notch, this Galilean Madame Rose has hopes that she and Jesus will soon have the whole Roman world on a plate (presumably not the one displaying the severed head of the unfortunate John).
Meanwhile, Patrick puts the spotlight on Judas (Josh Tyson), an executive trainee who answers to Pilate. Judas is a critical thinker—a young man who tries to make logical sense of matters of faith and daily living. Considering himself both a Jew and a Roman, he is torn between competing allegiances, and it makes him edgy to think about the betrayals involved in committing to any one of them. He encounters one of Christ's disciples, Peter (Ariel Estrada), who proselytizes for the Jesus movement. Judas is not an especially spiritual animal, but he is nonetheless attracted to the otherworldly Jesus. He rather quickly becomes a disciple, in spite of himself.
The show boasts a first-rate cast. Teaming with the aforementioned actors are Josh F.S. Moser, as Pilate's assistant, Klautus, and Jim Sterling in the small role of Herod.
Smith brings out Pilate's self-importance and his talent for delivering aphorisms with a touch of campiness. ("A secret tunnel," he proclaims, is "the foundation of all good government.") He also seems to be in touch with the character's more compassionate side. There are also subtle suggestions that Pilate's interest in and concern for young Judas may not be entirely platonic. (That's not surprising, considering that Patrick—who, at age 80, currently resides in California—was one of America's earliest out gay playwrights).
Tyson's earnestness and his outbursts of exasperation make his Judas a protagonist to whom 2018 audience members can relate. And Alkins, with his paradoxically cloudy yet piercing eyes, is perfectly cast as Jesus.
Helping to provide some visual relief from the play's talky nature are the projected video designs by Attilio Rigotti. He gives us clouds moving across Jerusalem, parting at apt moments to allow the stage to fill with light. Later, in the garden of Gethsemane, moonlit trees twist nervously, creating a sense of impending doom. Riggotti's contributions are lovely, but subtle. They never upstage the fine work of the actors.