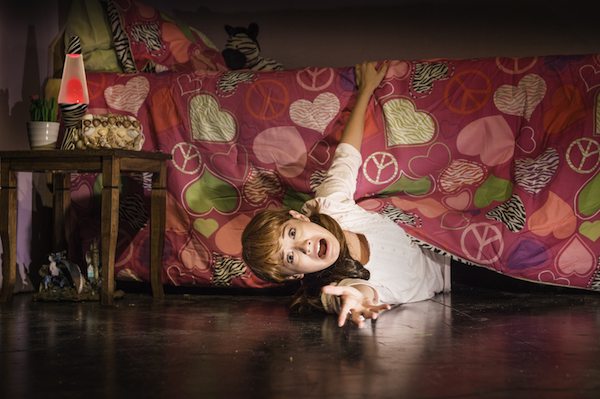 Nightmare: Horror Show, presented by Psycho Clan, is billed as New York's Most Terrifying Theater Festival.  The festival, which is playing through October 31st at the Clemente, features seven plays playing in rep.  You're certain to get your fix of chills and screams and get in the mood for Halloween.
Smile (produced by Psycho Clan, written and directed by Timothy Haskell) was my personal favorite.  Billed as a 4-D haunted house, it starts off slowly, with a woman in a dress playing an accordion, then a girl named Sam being lectured by her dad. Having seen eight men dressed in menacing costumes outside the front of her house, Sam sneaks out of her house via the back alley, but soon one of the men starts to follow her, saying "You better run!"  Parts of this show take place in total darkness (except for flashlights) with menacing, high-pitched music.  Director Timothy Haskell brilliantly sets an eerie mood.  Gunshots, screams, a hammer, and blood all come into play.  A mood of terror comes over the audience, with many screaming out during key moments of the show.
Night of the Touching Zombies (produced by Figment and written by Jason Ellis) and Bane (produced by APT Theater and written by Kate Dickinson) are presented on a double-bill.  Zombies is a ton of fun to watch. The phones are dead, the TVs are not working, and everyone is going into survival mode due to the zombie apocalypse. Gunshots and scary high-pitched music helped to set the mood, while a zombie dance set to the music of "Hungry Eyes" from the movie Dirty Dancing provided some comical relief. Watching the zombies attack and chase each other around the stage was quite entertaining, and the audience was really enjoying themselves.  The second show on the program, Bane, isn't as scary.  James and Natalie are stuck in a cabin in the woods, and they are slowly recalling a terrible accident that happened.  Meanwhile, Natalie works on her jewelry and does some cooking.  James is taking medication, is having terrible headaches and finds hair in the vent (perhaps from a creature?). Things slowly heat up, but the ending comes a bit abruptly and strains belief.
Eddie (produced by Psycho Clan, written by Paul Smithyman, and directed by Matt Acheson) and Broken (written and directed by Anthony Giorgio) are also presented on a double-bill.  The first, Eddie, has a man playing a serial killer who is holding and moving a marionette, while a woman provides the voice for it.  This is presented mostly as a monologue, with a visual surprise at the very end.  Although the show runs only about 20 minutes, I found my mind wandering many times throughout the monologue.  Far stronger is the second show (Broken), which is a combination of a scary show about a woman confronting her inner demons, and a dance show.  It starts with a woman lying on the floor in the fetal position, looking dazed and confused.  Then four people with white stockings covering their face and dressed in white straitjackets appear.  Scary, very loud music is played as these four people dance and make ominously long eye contact with various audience members.  Things soon take a darker turn, as the woman keeps saying "Help me" over and over again. I really felt the torment that she was going through,.
Another double bill features Me_irl (produced by Psycho Clan, written and directed by Aaron Haskell) and Necromancer (produced by Macabre Talent and created by Jonathan Frost and Joan Baker), both very well done.  In the first (Me_irl), a man is sitting on a park bench, eating a sandwich and potato chips and writing in his notebook. A black crow flies towards him (an onstage puppeteer controls the crow's movements); everything seems fine as the man starts to feed the crow the food.  But director Aaron Haskell sets a scary mood with thunderous sounds interspersed in key moments and a long stare that the crow gives to the man before things take a very dark turn.  Let's just say it was a very big mistake for the man to befriend this crow.  In Necromancer, six audience members are recruited by an assistant, June, to sit at the séance table on stage.  They are given directions and use props such as salt, a sharp knife, a spell book, and candles. Then the necromancer (the medium of the séance) appears.  He has full control over everything and we can feel his knowledge and power, even as he mixes in some jokes to lighten the mood.  It's not long before magical things start to happen.