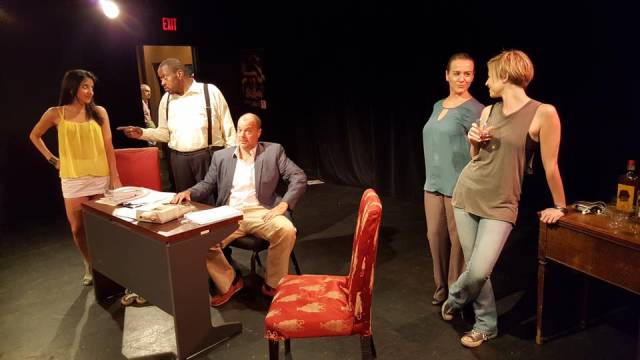 Chuck & Me Playmakers' Loops achieves an important feat in theatre with this play about a porn producer and his world set in 1990s New York: they never once take the easy way out with a cheap joke about porn or the 1990s. Instead, playwright Chuck Orsland has written a funny, smart and thoughtful play about a workplace family that realizes they are still not as permanent as blood relatives.
The show opens with producer Frankie LaCava, played by Ron Barba, in his office with his childhood friend and co-producer Richie Tags, played by Tony White. They have just returned from an awards ceremony where they swept every last category with their excellent porn, which they refer to unironically as "films". They are soon given the news that their lead actress Linda Blush (played by Patricia Perales) is pregnant, and the father is their lead actor Tripp (who is never seen), who is furthermore filming for the competition.
Barba's quiet humor as an older man (he offers to go "trip the light fantastic" at the club with his younger coworkers at one point) plays well in Frankie's decision to do more with his life, and thus inviting a professor of feminist studies to observe the production company for a scientific research paper. He is a good balance to Tony White's irascible but lovable Richie, whose spectacular delivery of his lines got the biggest laughs. (When asked to deliver homemade muffins to the crew, he asks if he looks like a runaway slave.)
Jessica Alexandra Green, Patricia Perales and Kristin Carter as Kit, Linda and Monica, respectively, present the audience with a trio of female characters who are all smart and focused on what they do for a living without believing they have to sacrifice relationships as a result. Green's Kit is an up-and-coming film director with a penchant for films about the Hong Kong underground and has seen Breathless by Jean-Luc Godard about 30 times. She is working on a screenplay for "Highway 69." She strikes up a relationship with Carter's Monica, the professor observing them. Her Kit is fun and sassy, but shows her vulnerable side without ever being maudlin.  Carter is spot-on as Professor Monica Silk, from her speech patterns to her hand gestures, down to her toe pointed in her sensible burgundy pump. She is tenured and lives and breathes academia, even while getting to know people in a world far removed from her own. Perales' Linda shines in her interview with Monica, where she breaks down stereotypes of women in porn. She makes her points without being defensive and presents a solid case.
The clothes and set were the 1990s to the last detail, from the adding machine on the desk to Kit's Walkman and roller blades. The movie posters of their porn films on the walls is an excellent touch. And although the beginnings of the Internet were around in the 1990s, there are no references made to anything online. All the characters know is face-to-face interactions with a minimum of phone calls made on a landline (back then known as "the phone".) I appreciated their relationships all the more for that important detail.