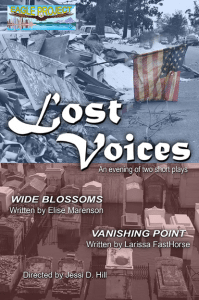 Comprised of two separate plays with the central theme of Hurricane Katrina, Lost Voices shows the human level of the ravages of ever-present climate change.
Each of the plays has a cast of three, and the set from the first play is deconstructed to materials that support the plot of the second play. In this manner, Director Jessi D. Hill makes excellent use of the space and time to transit from one to the other.
The show opens with Wide Blossoms, written by Elise Marenson. James (Ryan Victor Pierce), a seemingly white lawyer, has been drinking quite a bit under the watch of a bartender (Kyle Leibovitch) when Mari (Kayla Jackmon) stumbles in. At first, Mari seems out of it, but turns out to be actually the most clearheaded of all. James is not as drunk as he seems to be, and is connected to Mari in a way that is not immediately apparent.
Vanishing Point, written by Larissa FastHorse, features, in turns, a grandmother (Donna Couteau) telling stories of her tribe, and two young cousins trying to prevail against rising waters in New Orleans after their entire tribe has left. Neither the tribe nor the two cousins (played by Abbi Hawk and Thomas Muccioli) are named, a choice FastHorse made artistically so that the show represents several Louisiana tribes, including the Biloxi-Chitimacha-Choctaw, who were recently named America's first Climate Change refugees. As they see the water fast approaching (masterfully depicted with light and sound), the two cousins debate staying or going from the land where their tribe has always lived while validating shared memories they realize will die with them.
All of the acting is stellar and both casts support each other's characters seamlessly, in a way that makes the audience feel like they have walked in to the bar or into the disappearing community. One easily forgets that they are attending theatre and that they are not, indeed, alongside these well-written characters as they face climate change, a situation that actually affects every last one of us.
Lost Voices demonstrates and educates the audience that we must not lose sight of the fact that it's not "save the planet", it's "save the people." The planet will be here. Whether or not people can survive on it depends on how much attention we all collectively pay.