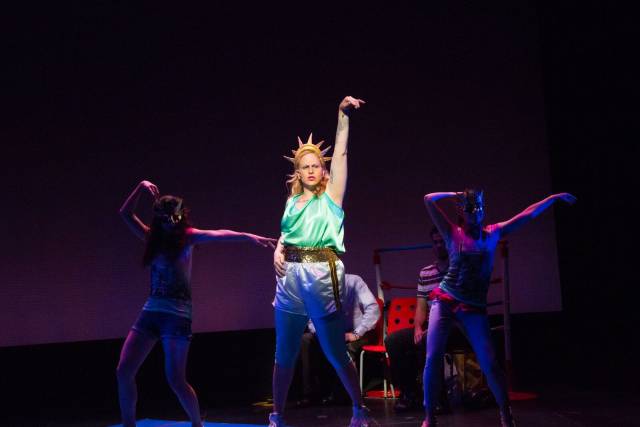 When Manuel (Gil Perez-Abraham) arrived in the United States as a child, he had no idea that growing up his dreams would seem almost impossible to realize thanks to an issue of bureaucracy. He and his mother (a splendid Tami Dahbura) are undocumented and have been waiting for a green card for almost two decades, as Manuel graduates high school and is encouraged by one of his teachers (Michael Marotta) to apply for scholarships to go to college, he must come to terms with the fact that he's in limbo; he can't apply for colleges without the proper documents, and even if he was accepted, upon graduating he would have the same problems which would make his job search impossible, "my American dream has become my American nightmare" he explains.
Manuel's biggest fears are, ironically, represented by a French lady who once upon a time inspired immigrants to arrive to America in hopes of finding a better future, the Statue of Liberty (Shakina Nayfack) herself who sets her eye on Manuel and tries hard to prevent him from achieving his goal. As Manuel seeks legal ways to gain the right migratory status, the Statue sets more and more obstacles, their fights staged as rounds in a boxing match, complete with a ring and sports announcers.
With music by David Davila, who co-wrote the lyrics with book-writer Noemi de la Puente, Manuel vs the Statue of Liberty plays out like one of the most essential episodes of Schoolhouse Rock! never made, as the characters explain the goings on of migratory bureaucracy through a series of catchy tunes infused with Latin rhythms and performed in Spanglish. The book has clever insights about the unfairness of a system that treats everyone equally, believing it to be the ultimate idea of justice and freedom, and even comments on how the system often favors those with endless economic power.
It could've certainly been a pessimistic show, but instead it focuses on the wonders of the intellect as Manuel's battle with the Statue never becomes a full on physical match, but relies on debate. It also highlights the importance of family and education when it comes to the formation of well rounded human beings, and does it all without ever being didactic or overly sentimental. Directed by Jose Zayas, who gives it a pitch perfect pacing and injects it with the energy of an actual boxing match, the show flies by as it delivers important sociopolitical messages and has a thing or two to say about the democratic process.
The ensemble is wonderful with each and every cast member delivering a memorable performance. Best in show are Perez-Abraham who turns Manuel into a hero full of empathy, quiet desperation and hopefulness, and the spectacular Nayfack who plays the Statue with the sass of an animated character, and the soul of a grand Broadway diva. She takes hold of the stage and never lets go, at times even making us want to root for her character, even though it doesn't feel like the right thing to do.
Manuel vs the Statue of Liberty is an essential piece of musical theatre that captures lightning in a bottle, it encompasses the current state of America in an objective way, and while it dares the system to truly fight for the pursuit of everyone's happiness, it celebrates the cultures that make the country a dreamland of possibility.