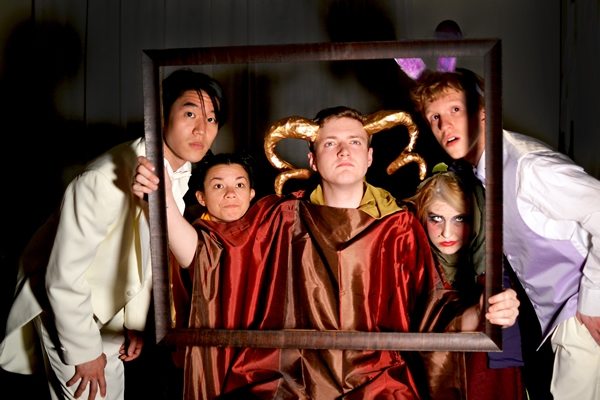 Have you ever played make-believe, had an imaginary friend, or disappeared into fables and tales of lands far, far away? In A Map to Somewhere Else, written by Reina Hardy, we are able to revisit our childhood dreams. Reina's perception of reality is embedded in the ideology that we never really grow up -- our child-like imagination is buried deep within our hearts, waiting to be rediscovered.
The play opens as a typical summer day in northern California, where our main character, Natasha (played by Meghann Garmany), is digging through boxes in her late grandfather's house. Her best friend Emily (played by Case Watson) shows up for a visit, as her cousin Constantine (Jay William Thomas) frantically searches the house for his grandfather's coveted diamond ring. Throughout the afternoon, the three come upon an old map from Natasha and Constant's early years, which accompanies a fantastical story that has haunted them since the first time it was told. While recounting these harsh memories to Emily, Natasha and Constant begin to hear voices...and then, alas, four creatures from Dragormandia appear in the living room. They, too, are looking for that special ring, so that they can go back to their homeland. In an effort to keep their sanity, and their lives, the three flee from the house, leading us into a land far from anything you'd see in California.  Once in Dragormandia, we learn that the weather is cold, dark, and windy, the Queen has been killed, and the citizens are at war with outside armies. Natasha, Emily, and Constant are playing out roles from this childhood story, turning imaginary into reality. If this threesome can withstand and alter the ending of the story that they know, they might be able to restore order in Dragormandia, and return to their beloved California.
The open spaces of the bare set allow your mind to fill in the blanks, helping you imagine the magic our main characters are experiencing on stage. And simple props like cardboard boxes to build mountains, an open frame acting as a crystal ball, a couch as a throne, and bright lighting to emphasize entrances or exits, provide points of reference for us to help connect the dots of these two parallel worlds unfolding at the same time.
One of the key messages taken away from this performance is that anything is possible; it encourages us to explore our fantasies, no matter how far-fetched, and live them out in real life. Hardy and her cast teach us that it is never too late to be the version of yourself you've long closed the door on.