Review: The Strange Case of Dr. Jekyll & Mr. Hyde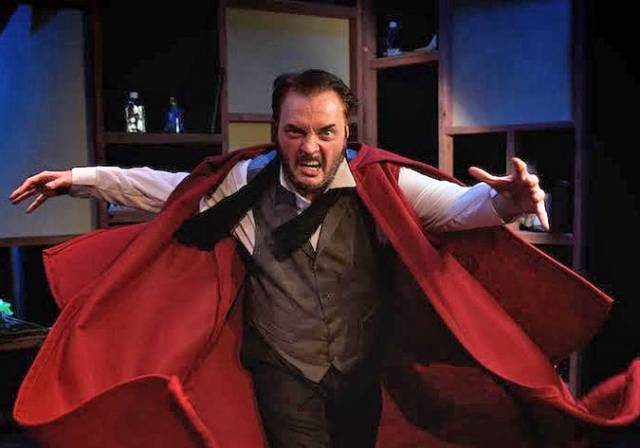 In their production of The Strange Case of Dr. Jekyll and Mr. Hyde, the New York Deaf Theatre presents an outstanding, interpretive rendition of Robert Louis Stevenson's classic story. The ensemble, made up of deaf, ASL-fluent and hearing voice actors, visually depicts the wild nature that lives within the mind of Dr. Henry Jekyll.
The stage is set to resemble the inside of an old home in England in the 1800s. This open space concept allows for the transformation of location with the movement of props and manipulated  lighting. To aid the audience on their journey down the dark alleyways, through a nondescript door, and into the basement laboratory of a famous British scientist, two actors appear as narrators between scenes. One is dressed as a butler, the other as a maid. Their costumes allow for easy transition into character throughout the play. Yet, we quickly find that their roles are bigger than they appear to be to the naked eye. As they toy with Dr. Jekyll in trying times of self-doubt and internal conflict, we arrive at the conclusion that they are physical manifestations of his conscience -- the good and the evil.  With the appearance of Mr. Hyde, Dr. Jekyll's inner personality, beast-like and animalistic qualities overpower his desires so that he no longer needs a serum to appear, just a change in mood.
NYDT merges British Sign Language with ASL to reflect the spirit of the times. Complementing this creative level of language, the hearing actors speak their lines in English dialect. The harmony between the two blurs lines so that all we really focus on is the emotion and action happening before us. For a truly unique and impacting experience, grab yourself a ticket and escape into a world of spookiness and magic.