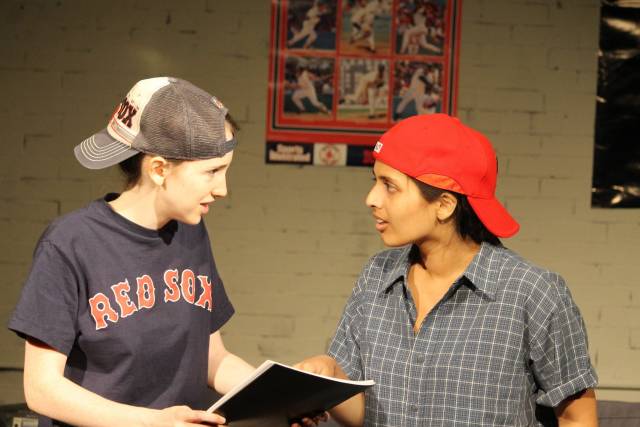 In the 1990s, two 20-something, struggling actors from Boston wrote a screenplay in order to work. In 1997, the longtime best friends won the Academy Award for Best Original Screenplay and their success was mythologized by Hollywood into a fairy tale for aspiring actors. In the early 2000s, two best girlfriends wrote a play fictionalizing the friendship between the Oscar winners during the screenplay writing process and played the parts themselves.
Penned by Mindy Kaling and Brenda Withers, Matt & Ben, inspired by the real life friendship between Matt Damon and Ben Affleck, went on to become an award-winning surprise hit at the New York International Fringe Festival in 2002, and led to Kaling's position as a Hollywood player in her own right. The play is currently being staged by the nascent theater company West of 10th, founded by Piyali Syam and Rachel Goodgal, who star as Matt and Ben respectively.
The show begins with the guys at work on an adaptation of Catcher in the Rye in Ben's dumpy, quintessentially '90s apartment, littered with CDs, snacks, issues of Sports Illustrated and a game of Battleship under the table. Ben is convinced that adaptation is the highest form of flattery, and JD Salinger's beloved coming of age novel is exactly what they need to get their careers going. The only real success they've experienced thus far was in the Brendan Fraser prep school drama School Ties, a film that Gwyneth Paltrow says isn't good. Yup, Gwyneth makes an inspired appearance, played by Goodgal.
The script for Good Will Hunting falls from the sky and fun ensues as the pair try to make sense of what they should do with it. The actresses in this production are engaging in their roles, especially Goodgal, who infuses Ben with a ditzy, quasi-frat boy persona: immature and obnoxious, but charming and good-natured. Syam plays Matt as the more focused of the two, balancing her costar's zaniness with a thoughtful interpretation. Despite an awkwardly staged physical altercation where the audience can't see Syam's reaction, it's an entertaining show and a solid first effort.