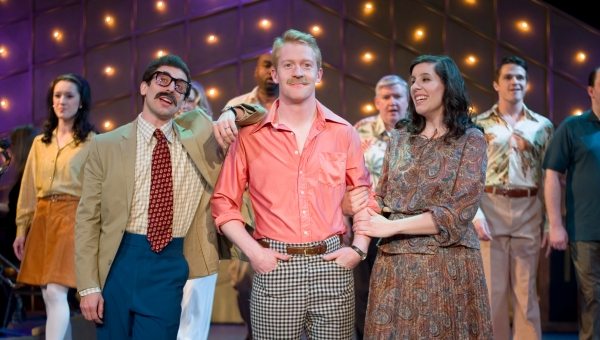 The past sneaks up on you when you least expect it to. That seems to be the idea at the center of Stephen Sondheim's Merrily We Roll Along, which focuses on the friendship between composer Franklin Shepard (Jack Mosbacher), lyricist Charley Kringas (Nicholas Park) and theatre critic Mary Flynn (Ally Bonino) but does so in reverse; we first meet them in 1976 as jaded adults who can barely stand each other, and then go back in time twenty years, along the way seeing vignettes of moments that shaped them. From divorce, to success, to marriage, to children, to affairs...we see the three of them being the only constants in each other's lives. This rear view mirror is a tool that can be terrifying or extremely helpful depending on how one chooses to use it, and more often than not, Merrily We Roll Along seems to have scared audiences away who might not like seeing their own fears and regrets represented onstage.
The original show flopped on Broadway, and other than a few concert productions and a West End revival, it remains one of Sondheim's least produced shows. Luckily, the courageous folk at Astoria Performing Arts Center have put together a true wonder of a production that not only does justice to Sondheim's music, but also sheds new light on George Furth's book. Relying on the notion of time "sneaking up" on us, director Dev Bondarin makes the most of the theatre's space and quite literally has the ensemble come up from where we least expect them to. Sometimes the chorus arrives from behind the audience, at times they come from the sides, all of it perfectly conveying how impossible it is for us to control our memories; we never really know what will trigger a sudden recollection. The simple, but effective set by Andrea Nice, comprised of a large panel with dozens of lights, also features discreet doors that open and close serving both as physical passages and also as metaphysical portals that take us across time.
Bondarin's direction is admirable both for its stylistic bravura and also for its unobtrusiveness; a show like Merrily We Roll Along has to be handled with extreme care since it can easily become a snarky trial against its characters, or a corny "woulda coulda shoulda" spectacle. Instead Ms. Bondarin's production is exemplary for its empathy towards the three leads and the melancholy with which it observes them. A large part of the success of the show is owed to the impeccable casting, with Mosbacher making a Frank that's part Hollywood matinee idol, part Neil Simon sadsack, Park turning Charley into a lovable neurotic and the astonishing Bonino creating a Mary that breaks your heart and makes your belly ache from laughing. Despite her terrific voice, Ms. Bonino shines the most when she is quietly reacting to the other actors, watching the longing in her eyes as she looks at Frank woo other girls feels like a true punch in the gut, and to call her eye-rolls epic would be an understatement.
Similarly the featured actors are perfectly cast, with Rachel Rhodes-Devey making for a serene Beth Spencer who's romantic enough without being foolish, Greg Horton as a larger than life Joe Josephson and a truly delicious Lily Ann Carlson playing Broadway diva Gussie Carnegie with sass and gravitas in equal amounts. With Merrily We Roll Along APAC have set a very high standard, unlike the issues of the characters in the show, this is a production that will undoubtedly bring joy and pride to those involved in it whenever they get together and reminisce.