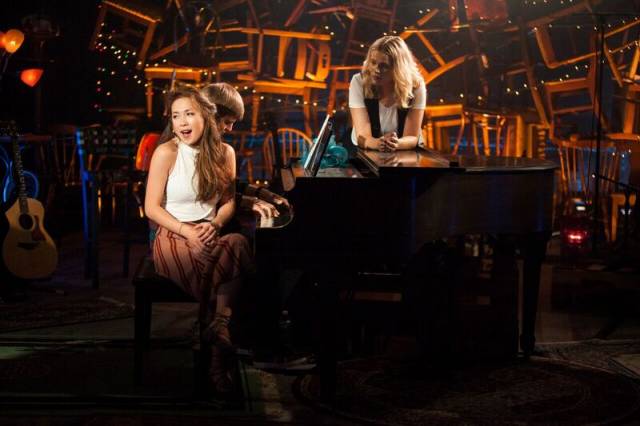 The premise sells itself: a musical based on Craigslist ads. It's a clever idea that promises a humorous look at what people look for behind the shield of anonymity.
And for the most part, Veda Hille, Bill Richardson, and Amiel Gladstone deliver as promised in Missed Connections, a witty musical that turns Craigslist's wackiest side into a series of musical vignettes. In the capable hands of the company, comprised of Jane Bruce, Brandon Ellis, Morgan Siobhan Green, Jamie Pittle, Shawn Plazker, and Debbie Tjong, the musical offers a lot of funny moments. Hille, Richardson, and Gladstone draw from a variety of Craigslist sections, providing songs that range from a girl yearning for her nice-smelling "bus boyfriend" to a crazy cat lady looking to sell her collection of pet hats.
However, those moments don't always translate into a coherent storyline. As the vignettes continue largely without relation to each other, the show becomes something of a missed connection in itself. By the end, the show pulls each vignette together through their common desire to feel seen by, and connected to, the world around them ("Did Someone See Me Today?"). While it makes for a great thematic link, it would have been nice to see each vignette connect to each other more as the musical unfolded, to give it a more concrete structure.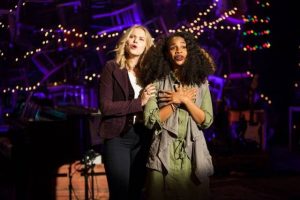 Despite the disconnect, each vignette was an individual success. Shawn Platzker got a great laugh as an atheist offering his services as a pet sitter after the rapture, for an advance fee. The wide variety of kooky characters calls for versatile performances, which the company, directed by Philip George, manages to deliver with great insight and comedic timing. Morgan Siobhan Green and Jane Bruce accomplish this especially well, managing the different sense of humor behind each song with incredible fluidity.
The music itself was catchy and fun, varying to match the humor of each vignette. Some of the pieces lingered a little too long past the punch line, but all of them had excellent comedic moments, and the vocal performances themselves were impressive.
Josh Iacovelli's set design created an eclectic, fun but disconnected backdrop for the vignettes, visually matching the musical's varied subjects. The stage's organized chaos, united by a lovely display of fairy lights, allowed the songs to flow smoothly from one to the next.
With Missed Connections, the New Ohio Theatre delivers a fun episodic musical that delves into humanity's zaniest impulses.