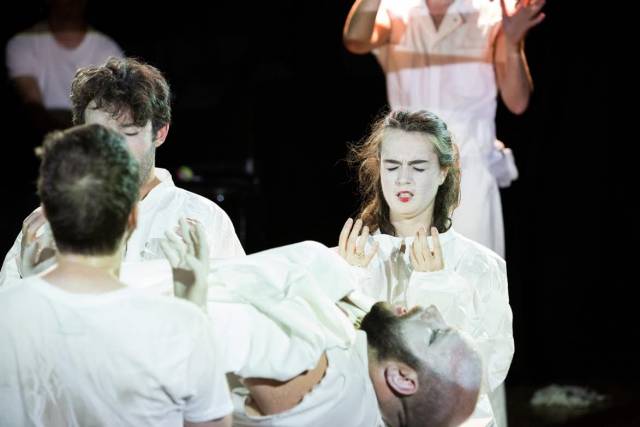 Never Odd or Even, a play from title:point productions at the Brick Theater, questions and challenges what madness is and what our minds can make sense of. Five performers, who each portray a number of undefined characters, create a world where everyone, including the audience, questions what is rationally possible through mathematical equations and logical reasoning.
The piece begins in a mental institution, and even though we see representations of different settings in different scenes, one gets the sense that we never really leave the madhouse. Actually, the piece really begins when audience members are given swimming goggles that have been painted over so you can't see clearly through them. They come with instructions when to put them on and off; when the dialogue finally begins, everyone is anxiously awaiting their cue, hyper aware of what they are hearing and experiencing.
In Never Odd or Even, things seem random, and there are times when it is hard to connect one scene or action sequence to the next; however, focusing on a particular moment, regardless of the context of the previous one, allows for a better and more enjoyable connection with the piece. Collectively the performers enact a higher state of consciousness as they weave through ideas of escapism, acceptance of circumstance, and physical and mental transformation. The dialogues and monologues are dotted with nonsense rhymes and chants like "Does a sunrise in reverse become a sunset?"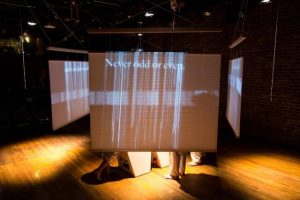 The set, an integral part of the piece designed by Claire Wood, is comprised of four hanging blinds positioned to make a semi-enclosed square, which are constantly folded and expanded as the actors run and hide behind them. In a very synchronized and coordinated manner, the actors call out various statements and questions that are simultaneously projected onto the blinds; they become a silent chorus that helps us to navigate through this piece.
The sense that the piece was created in a collaborative manner is also reflected in the number of writers, including Theresa Buchheister (also the director), Spencer Campbell, Ryan William Downey (also a performer) and Scott Ries.Buchheister has done an excellent job at coordinating so many aspects required to make this piece work and flow. The other performers (Justin Anselmi, Glor Klar, Catrin Lloyd-Bollard, J.R. Rose) all leave a very distinct and individual mark with their performance, despite it being an ensemble piece.