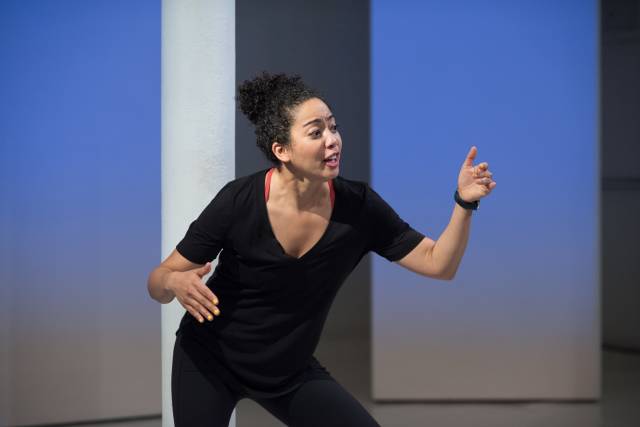 Living in New York, we pass by hundreds of people a day, the crowd so ubiquitous that we almost don't notice them (unless of course they're standing directly in our way). With her one-woman show Such Nice Shoes, Christine Renee Miller delves into New York's crowds through her interactions with the people around her on her own day from hell.
Miller takes the stage alone as, among other things, an actress making a living as a private yoga teacher for New York's wealthy, and takes us through a "day in the life" storyline to illustrate the struggles that come with living in the city. Throughout the day, Christine overthinks an audition, visits the homes of her rich (but still somehow with a host of things to stress about) clients, gives money to homeless people, and receives a devastating phone call from her doctor's office. These appointments are, of course, punctuated by trips on the subway shuttling Christine from one yoga class to the next. The subway trips serve as time for Christine to deal with the endless onslaught of problems the day throws at her, answer phone calls from her mother and husband, and, of course, interact with the many New Yorkers she shares the small space with.
Directed by Andrea Dantas, Miller's performance is astounding. She seamlessly transitions between characters, embodying each role she portrays with graceful shifts. Each character receives its own mannerisms and affected way of speaking that not only differentiates between each character, but creates an excellent portrait of the persona within the first few seconds they're introduced. This seamlessness allows Miller to create the hustling crowd of New York that surrounds her main character – all by herself.
Miller's writing is equally impressive, delivering at times hilarious and at times tragic views of what it's like to live in New York, to give in to the crowd, and deal with the non-stop problems that the city throws at her. The plot gives the audience a look into Christine's life, creating a personal connection through the threat of medical issues, her relationship with her mother, and her money and career stress. However, Miller's portrayal of many characters, combined with the New York City-centric thematic discussion, opens the conversation started by the play beyond just the personal view of Christine's life. Rather, Miller's play allows the audience to reflect on their own experiences in the city, and the ways it challenges or supports their own lives.