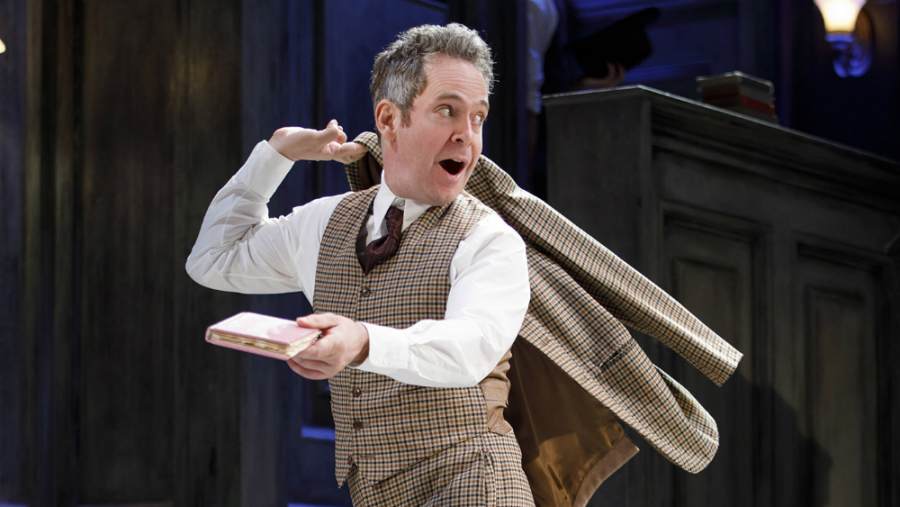 Be sure to bring a dictionary and a copy of Oscar Wilde's The Importance of Being Earnest with you when you attend the Roundabout Theatre Company's revival of Tom Stoppard's Travesties, directed by Patrick Marber. Starring the masterful actor Tom Hollander, the play requires rapt attention. The lines are often sometimes rapid-fire and there are jokes and gibes, puns and plays on words. If you aren't listening carefully, you might miss some gems.
In this memory play, the unreliable narrator, Henry Carr, describes events 50 years after the action supposedly occurred.  Hollander gives a wonderfully madcap performance, often scampering across the stage. He preens like a fop and makes outrageously funny faces. As the older man, he tells us his memory is not reliable and he notes that he's got his wits confused and his "think box is stuck."
Stooped over, clad in his dressing gown and wearing an almost demonic, wild expression, Hollander sets the backdrop to his story. He claims to have worked for the British government in Zurich in 1917.  Referring to the Great War, he describes his experiences sometimes with gruesome gory specifics, sometimes in hysterical sartorial detail.
During that same time, two revolutionaries, Lenin and James Joyce, lived in Zurich on the same street and Carr claims to have relationships with both of them. ("What was he like? I'm often asked.") For Carr, however, the relationships with Lenin and Joyce (if they really did exist) are less important than is his role as Algernon in James Joyce's English Players production of The Importance of Being Earnest. Although here, too, the specter of war looms, Carr's obsession with his part as "the other one" in Wilde's play and his preoccupation with clothing overshadow it and lighten the mood.
One of the ideas Travesties examines is the nature of art and the role of the artist. Carr often spars verbally with Joyce and with Tristan Tzara, a father of Dadaism. Tzara cuts up words of poetry, like from Shakespearean sonnets, puts the pieces in a hat, tosses them and "creates" new poetry. He mocks traditional artists and calls his new movement "anti-art." Carr verbally plays around with the name of the movement (noting its similarity to word "dad"). They also discuss the nature and purpose of war. In one conversation, Carr suggests that wars are fought so artists can ply their art. All three famous characters are revolutionaries in their own way, overthrowing the status quo. Lenin (Dan Butler) and Joyce (Peter McDonald) are fun, often absurd characters, as is Tzara (Seth Numrich, who gets to show real physicality in the role).
The play is often frenetic, adding to its lightheartedness, despite serious topics. Joyce speaks in limericks; Cecily, Carr's sister, and Gwendolyn, the librarian, musically joust with one another. Sometimes the action of the play stops as the characters burst out in dance and song. There's also a witty theatrical device Stoppard employs by repeating the same introductory phrase and repeating the scene several times, each time with the conversation going in a different direction. (Groundhog's Day, anyone?)
This Menier Chocolate Factory production has just recently transferred from London where in 2017 it received five Olivier nominations, including Best Actor for Hollander. Travesties demands attention from its audience as it challenges our intellect -- but it moves quickly and intelligently so there's no dozing off.