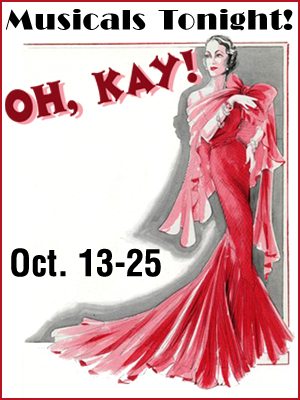 Musicals Tonight!'s 18th season began with a production of Ira and George Gershwin's Oh, Kay! a delightful farce that debuted on Broadway in 1926, but has lost none of its charm. Set in the estate of womanizer Jimmy Winter (Nicolas Dromard) during the Prohibition, the show circles on Winter's sudden realization that he has fallen in love with the eccentric Kay (Elizabeth Broadhurst) who might or might not be involved with a band of bootleggers who have been using Winter's cellar to hide booze from the FBI. Add to this a group of sassy girls pining for Jimmy, a butler with an attitude (Nick Locilento) and a Duke (Danny Vaccaro) with airs to make for a truly entertaining night at the theater.
The show is best remembered for having marked Gertrude Lawrence's stage debut and for featuring the legendary torch song "Someone to Watch Over Me", performed by Kay as she plots to break up Jimmy's wedding, don't ask... As most early musicals, the show consists of a collection of gags, dance numbers and thinly connected plot points meant to serve as a backdrop for the songs. Of course when you have numbers like "Fidgety Feet" and "Heaven on Earth" there's not much to complain about.
Energetically directed by Casey Colgan, who also choreographed the dance numbers, Oh, Kay! is a lovely production filled with memorable performances (Nic Thompson as Larry Potter is absolutely sensational, also was J.K. Rowling a fan of this show?) and songs that will have everyone humming and smiling  on their way home.