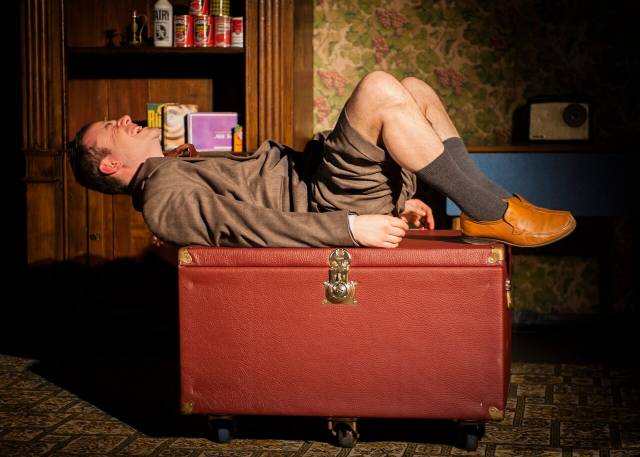 Fatalism, consumerism and a heady love triangle lead to a deliciously wicked conclusion in director Lucia Cox's adaptation of Anthony Burgess' One Hand Clapping. The 1961 novel, originally published in the UK under the pseudonym Joseph Kell, is a frightening indictment of American consumerist culture on the entire western world. Janet Shirley and her husband Howard are a seemingly normal young couple who live in a council estate in England and work modest jobs; she stacks shelves at the local market and he works as a used car salesman. They keep a simply furnished home, with "a TV, a radio, a washing machine, but no car of [their] own nor any children", which is perfectly fine with Janet, played by the lively and charismatic Eve Burley.
While it's not the most exciting life, there's "a lot to be thankful for, what with a home and a TV and a bottle of port in the cupboard and bitter lemons in the pantry". Though undereducated, Janet is naturally intelligent and grateful for a job that gives her life a sense of purpose. On the other hand, Howard, played with chilling conviction by Oliver Devoti, simmers beneath the surface with palpable dissatisfaction, repeatedly foreshadowing what's to come. He's convinced that life was better lived in the past and there is nowhere for civilization to go but under.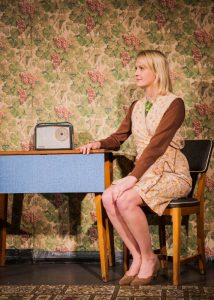 One hankering keeps Howard going: his desire to experience massive wealth once in his life. Howard's photographic memory and clairvoyance make his dream come true. But once he's had his fill, traveling the world with Janet and spending lavishly, Howard is ready to move on to a place where Janet is unwilling to go.  Not only is she more than happy to return to their simple lives, she's found excitement with the smooth-tongued poet Redvers Glass (played artfully by Adam Urey, who doubles as game show host Laddie O'Neill), a welcome escape from her passionless husband.
The vintage set design (by Meriel Pym) of patterned wallpaper and 1960's furniture includes four television sets, one belonging to the couple and the other three placed strategically on stage facing the audience, symbolizing the media's inescapable influence. Ms. Cox's script and direction bring to life a historically astute production of a tale that is still relevant; universal themes of passion, egoism, entitlement and celebrity make One Hand Clapping accessible across generations, though perspectives will no doubt differ wildly.  Nearly 55 years after the novel's publication, consumerist culture continues to rage on with no foreseeable end in sight.