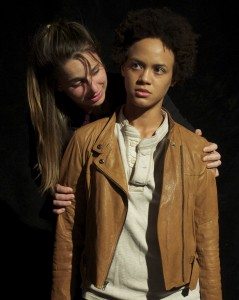 In the prodigious Shakespeare canon, gender-benders have always been in vogue. Gender, like the theatre, is a performance and as our notions of gender fluctuate, complicate, and ultimately loosen, it only makes sense that the stage reflects those variations. Take Brooklyn's all-female cast of "Julius Caesar" at St. Ann's Warehouse, Mark Rylance's all-male "Twelfth Night" and "Richard III" on Broadway, or the myriad other gender-bending productions popping up nationally and worldwide. The subject at hand, an all-female production of "Othello" brought to you courtesy of the ambitious ladies of Spicy Witch Productions, adds a nominal splash to the grand gender waters.
Now while all of this is wonderful and important, it seems to me that a chance to play über-villain Iago is a good enough reason to mount an all-female cast of Othello. In all transparency, the girls want a shot at the juicy parts. After all, an actress gets sick of being relegated to smiling wife, whiny whore, or, my personal favorite, no-named bimbo.  We all know the story of Othello -- jealousy, betrayal, deception, dead wives -- and because of that it becomes all the more important to reinvent the classic with fresh perspective and new eyes.
Spicy Witch Productions describe themselves as an all-female, actor-driven ensemble committed to pairing classical and contemporary works that explore gender and identity. Again, all wonderful, all important. But sadly, the play is suffering from tenuous choices and a timid point of view. It is not enough to make Othello a woman and allow that fact alone to carry all the weight.
The set, a Spartan and intimate backdrop, does the production few favors. Similarly, the lighting and music never seem to come together to distinguish this Venice from any other place in the world. Director Rebecca Weiss pulls solid performances from her very capable ensemble, but oftentimes leaves me baffled. Some characters are clearly women playing men while other characters are refashioned as women. There would be no source of contention, if only these choices felt less arbitrary. That is, the gender subversions/reversals don't seem purposeful or specific enough. For all I know, they could have all plucked names out of a hat or pulled the shortest straw to decide who has to keep the male posturing and who gets to put on the dress.
That being said, the performances alone are worth the trek to The Kabayitos Theatre in the Lower East Side.  In particular, the indelible Lee Ann Hoover is wonderful as Brabantio, transforming the old Senator into a neurotic leggy blonde. In Hoover, we see Brabantio as a mother recoiling from her daughter's temerity and disobedience, in a singularly clever defiance of audience expectation. You can almost feel the proverbial stick wedged inside her posterior. Gianna Cioffi as a supplicating Roderigo is spellbinding; she skulks around the stage vacillating between gangster bravado and a fool's cowardice. Not to be outdone, Isabelle Russo is the best Desdemona I have ever seen. She glides onto the stage like a Disney-borrowed-Belle, bringing strength and intelligence to the cardinal victim.  Other standouts are Meghan Blakeman as the long suffering Emilia and Hannah Hammel, who plays Bianca with ease, charm, and moxie.
The Spicy Witches are a group to watch; I suspect they will continue to refine this machine of fine actors and use them to their potential. I can only hope that they continue to examine how female nuance can revamp and rattle Shakespeare's male heroes at their most vulnerable. The boy players have had their turn; let's make room for the ladies.
Performances of "Othello" continue at the Kabayitos Theatre through October 26th, in rep with The Spicy Witches' production of Paula Vogel's "Desdemonda: A Play about a Handkerchief".  Check out our full event listing here: https://stagebuddy.com/listingdetail.php?lid=15638