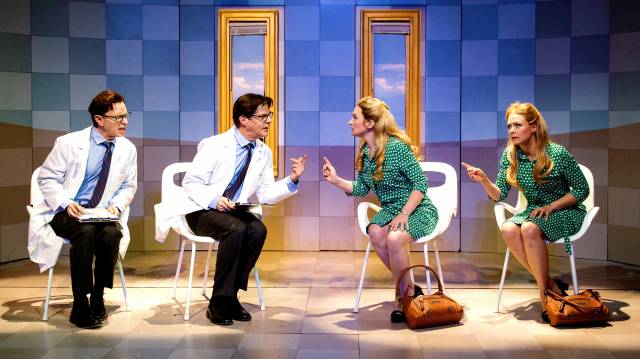 Six gimmick laden shorts make for one tedious evening. Lives of the Saints, the zany brainchild of theater maven David Ives, attests that clever-for-clever's-sake theater can undo even the most skilled of storytellers. Ingeniously directed by John Rando and presented by Primary Stages (two longtime collaborators in the Ives universe), Saints is a new collection of short plays for our short attention spans. Despite their short running times, most of the plays have a premise that is stretched too thin, akin to running a marathon barefoot. Perhaps, were it any other playwright but Ives, whose past forays into the bizarre have cashed big (All in The Timing and the universally lauded Venus In Fur come to mind), we might be more forgiving.
The Goodness of Your Heart opens the evening with a story of two buds, Del (Arnie Burton) and Marsh (Rick Holmes), drinking brewskis under a star-soaked backyard dreamscape. Marsh, the presumptuous friend, casually asks for a TV from Del, the sucker. 900 hundred dollars later and Marsh can't muster a thank you. What I suppose should be a musing on expectations and friendships fails to land the laughs or a reflective double take for that matter. The Goodness of Your Heart, It's All Good, and Enigma Variations are among the more forgettable plays of the evening.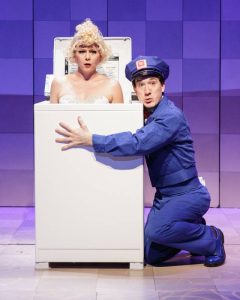 Soap Opera, Life Signs, and the titular Lives of The Saints are the more redemptive standouts. In particular, Life Signs, with its randy doctor, dead mothers, and tales of infidelity, momentarily revives the theater -- talk of "a meaty cock" is enough to get the thirteen year old in us all giggling. Soap Opera, a polarizing but certainly memorable piece, features an anthropomorphic washing machine and the man who loves her in a pun-crammed, damned lovers delight. Lives of The Saints closes the evening with a touching tale of two polish women flirting with death, leaving us awash in its afterglow.
The Olympian efforts of the entire production team cannot be ignored. The ensemble cast, in particular, is flawless with nimble comedic transformations. Much like its running time, Ives' effort falls short. Gimmicks can't upstage substance.