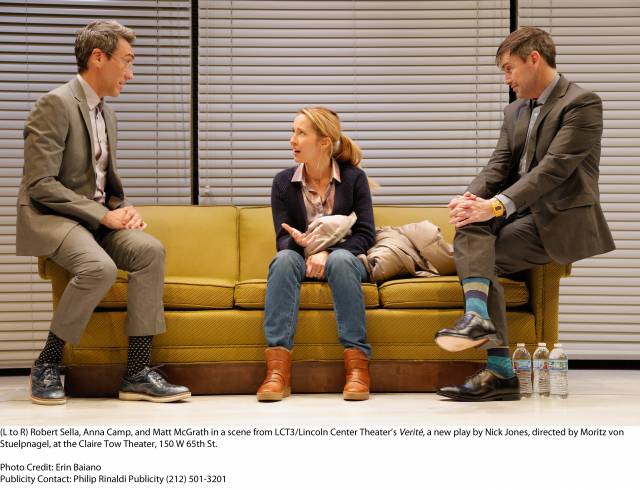 Our lives are so often mundane and prosaic compared to the mischief we find in our theaters. You rarely pay your ticket price to watch someone wrestle with supermarket sales or indulge in a Netflix marathon after a tedious day of licking envelopes. Verité, a new comedy by Nick Jones, gambles on life's more adventurous exploits. Jones, last seen at Lincoln Center with 2010's The Coward, pays homage to his absurdist whimsy with Verité, his sophomore effort with the Lincoln Center family.
In Verité, we meet Jo (Anna Camp), a stay-at-home mother with a fondness for dragons, who lives with her family in her sister in law's attic. Jo is a writer who has unsuccessfully tried to capitalize on her fantasy stories. The problem is, no one is buying. That is until Sven (Robert Sella) and Andreas (Matt McGrath), an eccentric pair of editors, mysteriously appear, lauding Jo's voice and comparing her to a "diamond in the trash". Sven and Andreas specialize in reality and the commercial viability of misery lit and thus have no interest in Jo's dragon tales. However, they are enamored with her voice and propose that she write a memoir for them, where "bold characters make interesting choices". The caveat, of course, is that the memoir must be based in real life happenings; after all, they don't want to be scandalized with a Million Little Pieces type fiasco. One 50,000 dollar advance later, and a panicked Jo is immobilized by the unexceptional details of her life.
Moritz Von Stuelpnagel is the astute director helming the sharp choices and swift pace of the piece. For the most part, Jones reins in the preposterous hijinks of the story, but toward the end that control unravels. Not that any of us mind, as the play lands the laughs with its Durang-esque absurdity. The ensemble is superb across the board, with Sella and McGrath's Norwegian editors as stand out performances. Anna Camp is marvelous with her earnest portrayal of Jo, somehow making Jo's appalling missteps endearing with her winsome likability.
Jones crafts an outrageous satire on the evil publishing world and the cognitive dissonance we all face when our fantasy lives collide with our unremarkable realities. Verité is a microscopic view on blinding ambition, delusion, and the deceit that follows desperation. And it's funny too. For a play about writing, the action is farcical and unfaltering, with plot twists that take us to Colombia and have us wondering whether "being seen is even better than having something to say". The play lampoons our obsession with misfortune and a society that reveres calamity and sensationalism above truth. Jones says it best: "With great pain comes great art."