Few festivals can stake claim to the diversity of work that Cabrini Theater's Venus/Adonis Festival delivers. An almost altruistic championing of new work, Cabrini offers a singular playground for playwrights both emerging and established. If the six plays below are any indication, there is a delicious morsel for all theater appetites in Cabrini's line up. These final six competed for the award for best play, presenting the fruits of their labors before seasoned theater judges. From public hangings and protest grounds to dead brides and spiteful Christmas dinners, Cabrini offers an invaluable glance at the next generation of theater masters.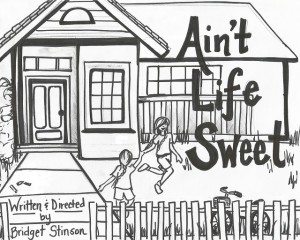 Family dysfunction and the holidays go together like police officers and donuts. Ain't Life Sweet, a new play by Bridget Stinson, belies its saccharine title and invokes the acid-tongued lingo of the maladjusted. Sisters Maggie and Baker speak to each other with a vitriol reserved solely for enemies and ex-lovers. It is Christmas time and the usual suspects are on display: heavily lubricated mom with a perpetual thirst for vodka, brother Pat, on his umpteenth visit to rehab, and good old spineless dad, who spends his energy placating the household circus. What transpires is trouble and trauma at the dinner table; immortalizing the family spectacle. At its best, Ain't Life Sweet channels the acrimony of August: Osage County, but it derails with a heavy hand of melodrama. Writer, director, and actor Stinson takes a gallant dip in the deep waters of domestic tragedies.
Next on the roster is Sharon Fogarty's Bride of Frankenstein - an experiment in intimacy, a macabre musical about Mary, a woman pieced together with the remains of dead bodies by a deranged scientist obsessed with his deceased wife. Despite the morbid subject matter, the musical has a whimsical levity that constantly surprises. As we watch Mary grow stronger and more sentient, we feel compassion for her imprisonment in her monster body. A formidable ensemble anchors the piece and the ingenious Fogarty keeps this innovative creation on an upswing. Bride is a lively reverie on the domesticated monster in us all.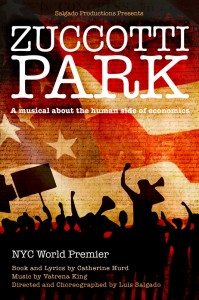 In the spirit of productions like Rent and Hair, Zuccotti Park is a welcome addition to the musical that cares. As you walk into the theater, you are bombarded with a cornucopia of guitar-wielding and protest sign-lugging beautiful people as they shout, "We are the 99 percent!" Easily the liveliest of the productions, Zuccotti Park (book/lyrics by Catherine Hurd, music by Vatrena King) follows the Occupy movement in its early inception and the many narratives that echo a "People work their ass off and cannot pay the rent" refrain. Wonderfully crafted with soul stirring numbers, Zuccotti Park electrified the crowd, resonating with the soul of revolution. Brian Kinnard as Tom, a homeless veteran singing "I'm Your Hero" has a show stopping number. Director Luis Salgado and the entire ensemble bring justice and fervor to a movement that can no longer be ignored.
"I made you a turkey sandwich, let you into my home, hold the fucking gun." An old adage says, if you bring a gun onstage, be prepared to shoot it. Mustafa Gatollari's Baby in a Corner makes good on that conceit, but falls short on credibility. Two spurned lovers form an unlikely allegiance in an isolated Vegas home. Paul, a borderline recluse, lets Brian, the heartbroken ex-boyfriend of Vinny (Paul's brother) into his home after Brian has made several unwarranted attempts at tracking Vinny down. Vinny is a small time crook who always owes somebody money. He bursts into Paul's house in a pink tutu when he's in hot water over an unpaid debt. In spite of strong performances by the cast, Baby dwindles as the plot becomes less and less plausible.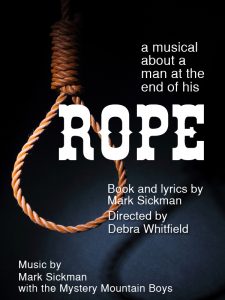 Rope, by Mark Sickman, takes us back to a time where public hangings were a much celebrated extravaganza. It is 1895, in the Old West, and we are in Summit City, where William Maledon, the prince of hangmen, is about to conduct his last hanging. William, a man who prides himself on delivering "justice with dignity" is on the verge of retirement and accompanied by Mildred, his beautiful and ostentatious wife with lofty political ambitions. However, Mildred is not ready to leave the throne of public infamy and goes to despicable heights to safeguard her notoriety. Rope is a wildly entertaining musical about the unholy history of justice. With mastery and flair, director Debra Whitfield keeps the hoots and the tensions brewing. Along with the magnificent ensemble, Scott Schafer is a hysterical scene stealer. In Rope, Sickman has created a spectacle of the best kind, one that holds a mirror to the absurdity of human ego.
In Stuck, Marci and Eric squabble about domestic rifts and the questions of sanity on the eve of their fifteenth anniversary. Some glasses of wine, mutilated barbies, and bizarre paintings litter the set while guts and viscera take center stage. The last time I was so jarred by a play's ending was Edward Albee's Who's Afraid of Virginia Woolf. Stuck is in good company with Albee and completely unnerves the audience with an unforeseen twist. But twists are not all this play has to offer; playwright Deshja Driggs-Hall as Marci and Troy Hall as Eric render raw and bone chilling performances as a husband and wife on the verge of losing it. Both tender and violent in its intensity, Stuck will haunt you long after you have left the theater.