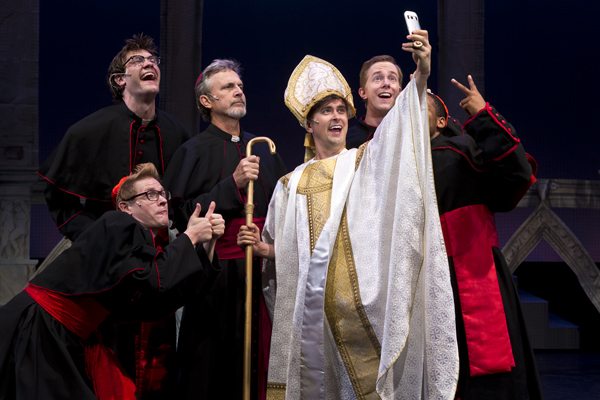 Perhaps it's testament to Pope Francis' current status as the hip representative of Catholics on earth that we get to see a show as fresh and funny as Pope! An Epic Musical which for all its irreverence and zaniness, dares to see the position of Bishop of Rome as something a regular kid would aspire to holding one day. The kid in case was given the name of Pope (Sam Bolen) by his humorless or very confident parents, and from childhood dreams of nothing else but to become Saint Peter's successor in the Vatican. Things turn out rather well for him and he becomes Pope unexpectedly, starting the wrath of Archbishop (Ken Land) who disagrees with his liberal methods (mostly kindness and food metaphors) and wishes to return to practices preferred by Inquisitors.
After accusing Pope of being part of sex scandal, Archbishop takes control of the Vatican, sending the hero into exile and forcing him to remember why it was that he wanted to be Pope in the first place. Done in comic book style, complete with speech bubbles, colorful costumes and wacky humor, Pope! An Epic Musical is a charming treat that will have audience members tapping their feet as they root for the lovable lead, who as played by Bolen is an endless source of optimism, sunshine and rainbows.
With a book and lyrics by Justin Moran, and music and additional lyrics by Christopher Pappas, the show features an array of catchy tunes like "What Would Jesus Do" and "Holy Crap" which play off on Catholic terms and combine them with slang that has become popular in American culture. In fact what makes the show so interesting is to see the Vatican turned into the playground for very American conceptions of what heroes should be like, seeing the authors give Pope a backstory that includes prom and teenage love interests (in this case the boy crazy Mary Elizabeth played wonderfully by Britney Coleman) in a way feels rather subversive.
An enjoyable treat from beginning to end, Pope! An Epic Musical is the kind of show that reveals its full magic days after you've seen it, as you find yourself humming the songs or laughing when you remember one of the jokes. As divine as a comedy musical can get.