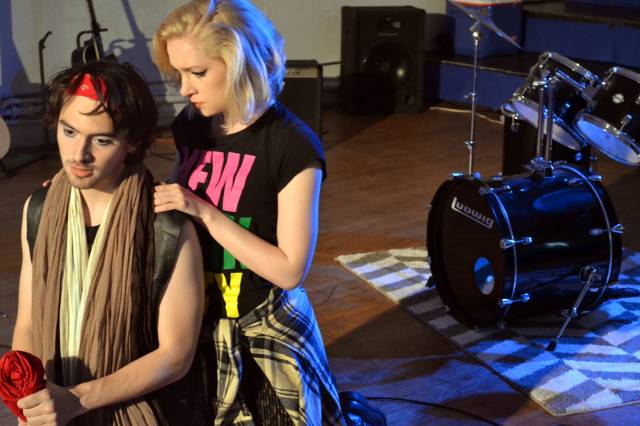 Upon entering the small theater space in the Access Theatre Gallery for the Everyday Inferno Theatre Company's original production Punk as Fuck, the audience is greeted by leather- and denim-clad misfits in the middle of an apparent jam session. In between power chords and drumming frenzies the delinquents wander about the theater space, interacting with seated audience members or taking hits off of a bong, while one pair can't seem to keep their hands off each other. It is an immediately intimate experience and the audience realizes they will be much closer to these characters on the impending emotional ride than they thought.
This original script by Michael K. White and Dianna Stark plays out the non-chronological story of the fall of a punk rock garage band before it even begins to rise. Already there is a tenseness between characters in the opening scene as one band member accidentally breaks another's guitar. Throughout the next couple scenes the play goes full Tarantino style as moments from various points in the band's existence play out without any true sense of order, but it is easy enough to keep up with the flow if one pays attention to the dialogue.
The characters we meet are drummer Cassandra (Kisky Holwerda), guitarist and bandleader CAGE (Preston Mulligan), bassist Lee (Russell Sperberg), and second guitarist and songwriter Simon (Quinn Wise). Additionally there is Lee's pregnant girlfriend Daisy who sits in on rehearsals and attempts to stir up drama every chance she gets. CAGE has dreams of becoming a punk rockstar while his girlfriend Cassandra seems tired of the lifestyle CAGE is offering her. The poetic Simon picks up on this and immediately develops feelings for her, which she reluctantly begins to reciprocate. Lee shows great frustration with his bandmates caring more about their personal issues than the music while Daisy supports only him and attempts to manipulate the others against each other, that is when she isn't running off to the bathroom.
As this play relies heavily on the abilities of its cast to bring these characters to life in a relatable and likable fashion, director Katharine Sommer succeeds in finding just the right actors for the roles. Everyone stands out and the characters are each given a distinct personality that makes them much more than just "the drummer" or "the bassist." Mulligan's performance as the wild-eyed bandleader CAGE in particular is an absolute joy to watch, especially his "21 Steps" monologue. Additionally, all of them can really play their instruments. Costumer Anais Koivisto deserves equal credit for creating such distinguishing looks for the characters as well.
The small and unchanging set really works for Punk as Fuck and the seating arrangement only enhances its sense of intimacy. Aside from the nonlinear storytelling, Punk as Fuck is very much a romantic drama in the vein of John Hughes, only in a punk rock setting. Anyone who that description appeals to will have a very good time at this show.
Punk as Fuck is performed in rep with The Roaring Girl through June 21.