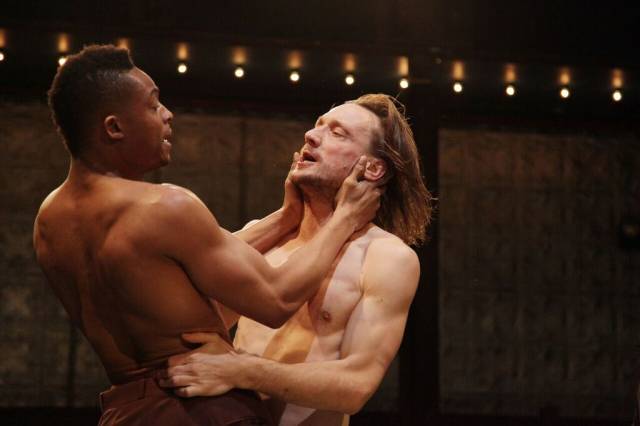 When Pier Paolo Pasolini died, he left behind a legacy of artistic provocation unlike anything else seen in the twentieth century. His most famous films had been incendiary reinterpretations of classic novels and stories (his Medea even had Maria Callas play her biggest film role), his essays bordered on propagandistic screaming, and his poetry is both erotically charged and furious. Pasolini was certainly divisive, and yet, perhaps what remains most surprising about his work is how strongly people feel about it. Those who despise him, have no problem spewing venom about the "loose" morality of his works, while those who love him, tend to be some of the most passionate fans in the world. At the 2014 New York Film Festival, there was a significant rumpus caused by a couple of fierce fans who verbally attacked director Abel Ferrara after the premiere of his Pasolini biopic, demanding the late filmmaker deserved better.
At the performance of Pylade on December 6, 2015, something similarly memorable happened, as lead actor Marko Mandic, who played the title part, sang Italian labour movement anthem "Bandiera rossa", leading a visibly moved audience member to join him and cheer. Who knows what was going on through the man's mind, but it turned an already powerful performance into something undeniably transcendental, a perfect encompassing of the idea of Pasolini as someone who always caused a reaction.
His Pylade is a continuation of the Oresteia, which finds the title hero returning to Argos with his friend Orestes (Tundé Sho) in order to help him reclaim his throne. However, Pylade quickly discovers he doesn't agree with Orestes' new system, which fails at fulfilling social justice, and leaves the city on a self discovery journey that shines an almost Thoureau-ian light to man's relationship with nature. Presented by the Great Jones Repertory Company, who throughout the years have specialized in adapting Greek classic, Pylade is a one of a kind production, that shines because of its fearlessness and commitment.
Mandic, gives the performance of a lifetime, as a man willing to throw himself into the fire if it means he will have gotten a better sense of who he was. Like the character he plays, Mandic lacks any self-consciousness and gives a performance full of raw intensity, if at times it seems he's lost in the text, it's because Pylade too would be lost in the text, but would try to find a way out of it. The play explores the inherent homoeroticism that comes in power dynamics, and there are scenes in which we're not sure whether Pylade and Orestes want to fight or make love - perhaps they're just two sides of the same coin - but it also explores sexuality in general, not precisely for historical accuracy, but for the simpler reason that naked actors have nowhere to hide and are forced to expose their souls.
Focusing on Pasolini's incomparable humanism, director Ivica Buljan, delivers the kind of work that you know will haunt each person who saw it. Whether its for the explicit sexual content, the chilling sociopolitical discourse, or the power of the performances, this Pylade is the thing myths are made of.