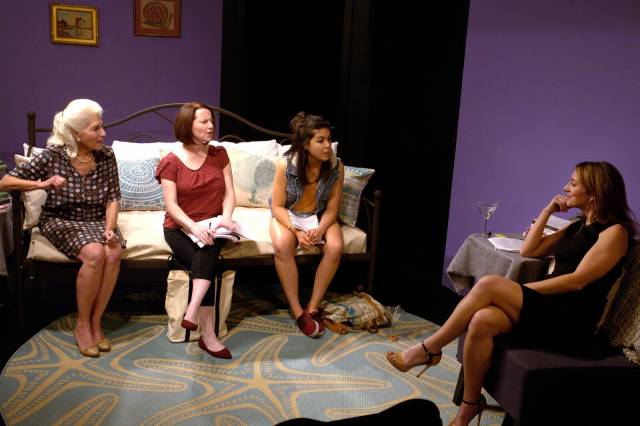 Feminist theory has a long and complicated history, one that playwright Gina Gionfriddo grapples with directly in her play Rapture, Blister, Burn. Gionfridd tackles the movement's primary tenets and grapples with a complicated question: how can women stay true to the principles of feminist theory in their romantic relationships with men?
The play follows Catherine (Tracilyn Jones), an academic who's made a successful career writing about the antifeminist evils of the porn industry. She's put that briefly on hold to return to her hometown and care for her aging mother, who's just had a heart attack. Faced with the possibility of losing her mom, who's always been her best friend and primary support system, Catherine starts to wonder if putting her career ahead of chasing romance was a wise decision. After all, though she's a celebrated theorist with several popular books to her name, if her mom dies, she'll have no one.
Her existential crisis isn't helped by Don (Patrick Daniel Smith), her grad school boyfriend, who now lives in her hometown with his wife, Gwen (Jake Lipman), who used to be Catherine's roommate. Her fears of solitude bearing down on her, Catherine asks Don, a once-brilliant student turned unambitious dean of the local college, to get her a job teaching a summer course. Only two students sign up for her class: Gwen, who's newly inspired by her stalling marriage to retackle the grad degree she never finished, and her former babysitter, Avery (Brittany Anikka Liu), a current student dating (or, rather, "hooking up exclusively with") a young aspiring filmmaker. Occasionally joined by Catherine's mother, Alice (Rochelle Slovin), the women look at their own lives and relationships through the lens of the feminist texts they study, reaching new conclusions about the choices they've made.
Tongue in Cheek's revival of the play brings an excellent perspective on the story through its nuanced and hilarious performances. Directed by Molly Ballerstein, the cast weaves the play's humor and rich perspective on feminism and women's lives to excellent effect. As two women who've made diverging choices, Jones and Lipman play off each other really well, bringing to life the play's examination of how these women try to make sense of their own life choices through the successes and failures of the other. Liu delivers Avery's younger-generation perspective with a fresh and bold performance, as her character never shies away from commenting on when and how Gwen and Catherine's lives went askew. Bringing in the point of view of the older generation, Slovin's drily humorous performance balances the perspectives of the class.
There have been many stories contending with the complexities of feminism, but Gionfriddo's play about two women looking at each other to see what might have been, while a younger woman looks at the two of them and hopes these lives aren't her only options, twists a new, fascinating perspective on the issues she discusses. The production doesn't shy away from complicating the theories it addresses, which only convolutes the lives of its characters more, creating a profound and profoundly funny must-see play.