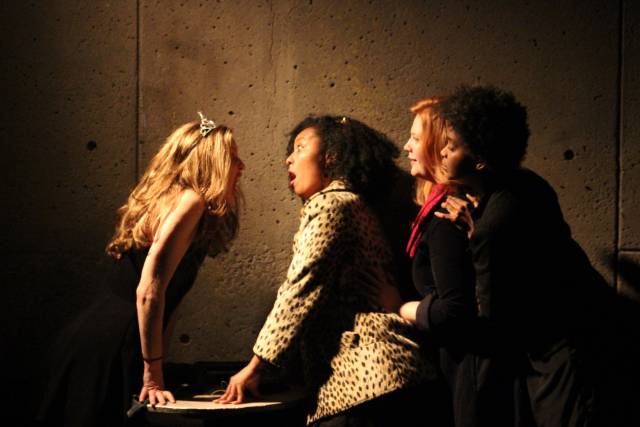 In a town in New Jersey, four teens made a suicide pact. Three were found dead in a garage. But one made it out alive. She gets tracked down by a playwright and her story becomes the focus of a play. And The Reenactors, currently making its world premiere at Abrons Arts Center, is the story of that play. Written by Juliana Francis Kelly, The Reenactors is a thoughtful and engrossing examination of the blurred boundaries between art and life.
Directed by Tony Torn, The Reenactors focuses on the Actress portraying suicide pact survivor Michelle (Blair Busbee), who is shocked to discover it's based on a true event that the Playwright/Director (Ean Sheehy) has seemingly appropriated. The play alternates between scenes of the play-within-the-play and "reality" (delineated with help from MJ Kanai's evocative lighting design), with the two becoming increasingly intertwined as the Actress delves deeper into her research and further personal connections are revealed.
The piece maintains a strong meta-theatrical distance; engrossing emotional scenes from the inner play are abruptly interrupted by the Director, framing them as removed dramatic action even as we discover how grounded in truth these moments are. So too, is the audience reminded of the inherent theatricality of The Reenactors itself, with several direct addresses to the audience and such vague character names as "Actress #2" and "Director." This paradoxical remove reminds us of theatre's artificiality even as its subject matter reiterates how life pores into art, and the resulting contradictions make the piece even more compelling. The disparate but linked elements of art and life, both in form and subject matter, thoughtfully inform and strengthen each other here to create a nuanced portrait of their complicated relationship.
The play also asks larger questions about actors and whether they're evil narcissists, as the Director seems to believe, or artists on par with a playwright or director. The continual emphasis on this theme, however, is the piece's weakest point. It's a logical theme, born organically out of the Actress' headstrong quest for answers when she discovers she's portraying a real person, but the discussions focused solely on the nature of actors often feel shoehorned in, and, beyond their somewhat-tangential connection to the more structural theme of art vs. life, the ultimate point these discussions are trying to make feels unfortunately vague.
Bringing these discussions to life, though, is a talented cast who bring both the necessary comedic levity and dramatic weight to the piece, with Busbee's charismatic performance being a particular highlight. For as much as the piece tries to assert acting's importance (or lack thereof) through dialogue, it's the actors' performances themselves as they navigate this ever-shifting play that proves their own artistic worth.