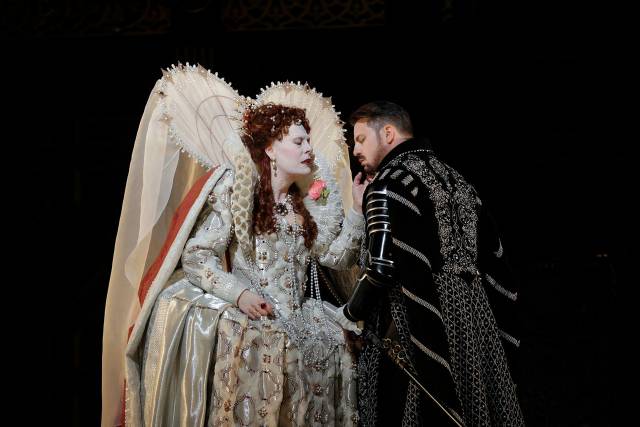 Donizetti's opera about the last days of the reign of Queen Elizabeth I has not been seen on the New York stage in more than thirty years. When a new production directed by Sir David McVicar premiered last Thursday, it was greeted with more applause, cheers and ovations than anything I've seen at the Met in almost a decade. The primary reason was a powerful performance by Sondra Radvanovsky as the aging monarch.
Roberto Devereux is the grand finale of Donizetti's trilogy of operas about Tudor queens; it is preceded by Anna Bolena and Maria Stuarda. Not only did the Metropolitan Opera present all three this season, all three queens were sung by soprano Radvanovsky, a feat not attempted here since the great Beverly Sills sang them all on the stage of The New York City Opera in the 1970s.
The third and final opera starts slowly with a lot of exposition and on-the-nose expressions of feeling. Robert Devereux, the Earl of Essex and a favorite of the queen, has been called back from Ireland after failing to defeat an uprising there. Accused of treason, he is offered a quick pardon by Elisabetta, who reveals she loves him (startling news to say the least). If he can prove unerring loyalty to her, he gets to keep his head. Unfortunately for both of them (among others), he is in love with his best friend's wife Sara, the Duchess of Nottingham.
The first two acts in this production are a bit dull, with a great deal of drama in the lyrics but little excitement onstage despite the alarming love triangle that is taking place. The exception is Elīna Garanča as Sara, who dramatically reveals very poignant anguish at what is happening and sings with heartbreaking beauty. Act three has more life pulsing through it with all four principle characters exclaiming, threatening and collapsing in turn. Robert is taken to prison where he waits to discover whether or not he will be taken to the chopping block for his actions (or lack thereof).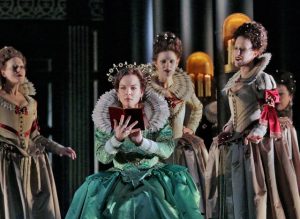 If this sounds more like an Italian opera, it feels like it too. It is hard to remember you're in Elizabethan England when characters beat their chests and sing, "No heart ever endured such anguish!" and "Stab me a thousand times if you wish!" Being a bel canto opera, it is as Italian as can be despite its subject. Maestro Maurizio Benini, a Donizetti specialist, does a good job with the orchestra and the amazing singers. He keeps the music at a fairly even pace, really hitting the timpani and brass that are so characteristic of Donizetti. It's truly an all-star cast, and each singer is in top form for this production.
Matthew Polenzani, as Devereux, sings and acts with a wonderfully unified energy. Some tenors tend to get breathy when they get emotional. Not Polenzani; his voice is always clear as a bell. His great aria, sung before he meets his ultimate fate, recalls "E Lucevan le stele" from Tosca, written more than sixty years after Roberto Devereux but much more recognizable today. Mariusz Kwiecien is in sterling form as the Duke of Nottingham, singing and acting beautifully. His role could easily be overshadowed by the others but he is quite moving, portraying a strong man undone as the love he feels for his best friend is destroyed by betrayal. Director McVicar has also designed the sets, and they are dramatic period interiors in black and gold with two powerful relief images upstage, including that of scythe-wielding Death.
The final scene, though historically absurd, is amazing to see and to hear. After Queen Elizabeth finally sentences her love to the gallows, in an incredibly moving gesture, she removes her wig, leaving her head nearly hairless, and in a fit of emotion, sings of her own vulnerability and her ultimate forgiveness. But is it too late? Radvanovsky's final moments could not be more dramatic, and they brought the audience immediately to their feet. It's a bravura performance.
Performances of Roberto Devereux continue at the Metropolitan Opera through April 19. For more information and tickets visit: https://www.metopera.org/