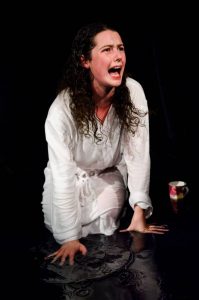 In May of 2004, 52.5 million viewers across America watched Ross and Rachel get back together for the last time, swearing eternal commitment to each other, on the final episode of the television series Friends. More than a decade later, people across the globe have watched the show countless times thanks to reruns and DVD box sets and Netflix, still easily recognizing Ross' indignant, but ineffectual, rallying cry, "We were on a break!" It's a significant part of the pop culture lexicon and, some might argue, at least a little bit responsible—along with the myriad of romantic comedies churned out steadily—for the general disillusionment found in modern day relationships.
Critically acclaimed playwright James Fritz (Four Minutes Twelve Seconds) uses the couple made famous by David Schwimmer and Jennifer Aniston to inspired effect in his cleverly titled play, Ross & Rachel, currently being staged as part of 59E59 Theaters' Brits Off Broadway festival. It's not surprising that its world premiere at the 2015 Edinburgh Festival Fringe sold-out. Based on name recognition alone, it makes sense. People still talk about the sitcom and the pair and audiences are no doubt curious about where the dinosaur-loving geek and former prom queen are up to twelve years later.
The play's real cleverness lies not in its name, but in the fact that it isn't necessarily about Friends or Ross and Rachel at all. It could be, or not. It's the story of a couple (both portrayed by Molly Vevers) that stays together because they once believed in fairy tales about happily ever after like the tripe Hollywood constantly feeds us and we eagerly gobble up because we like the way it tastes. The pair believed in it -- or wanted to.
She's now a successful career women, resentful about the sacrifices she made for love and another go at a relationship with her child's father. He, a professor and a snoozefest, is possessive and still, at age forty-five, weirdly obsessed with the fact that he bagged the beautiful prom queen he was desperately in love with as a teenager. It's an experience to watch Vevers command the stage, spiraling out of control with subtly increasing intensity. Despite some laughs, the play is actually quite dark. Fritz doesn't take us where general expectations would have us go, but where it counts -- in the middle of the road -- where it is messy and bitter and cold.