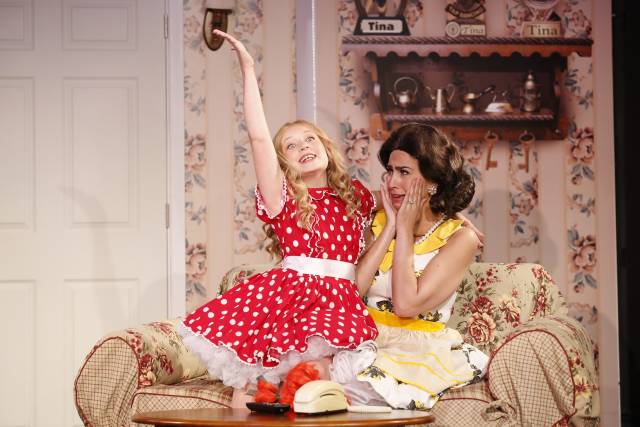 According to the hilarious musical RUTHLESS! people will go to any lengths in order to become famous, as we see in little Tina Denmark (a sensational Tori Murray), a sweet girl who dreams of nothing else but life in the theatre. When she isn't chosen to play Pippi Longstocking in her school's production she decides to win the part through murder, leading her mother Judy (Kim Maresca who is fantastic) to reexamine her own life, which until then has been devoted to being a homemaker.
In this revival of the show, Peter Land plays the enabling talent scout Sylvia St. Croix, who constantly reminds Tina that talent come through at all costs, and is so addicted to creating stars that she begins to think of Judy as someone worth nurturing, and exploiting too. With book and lyrics by Joel Paley and music by Marvin Laird, RUTHLESS! is certainly one of the most acerbic musicals ever made about showbiz.
Taking cues from Gypsy, Chicago and The Bad Seed, the show presents us with a completely female world (men are missing because they're "out working" or they haven't been around much to begin with) in which the characters are turned into fierce enemies always trying to outdo and outlast each other. It's a show that certainly provides laughter by the second, but also reveals a darkness you only begin to perceive hours after you've left the show. Are talented people worth more than the untalented? Is talent something that's nurtured and developed, or something you're simply born with? With outstanding performances and direction by Joel Paley (who compressed the original to fit into a single act show) RUTHLESS! is a decadent night at the theatre complete with brilliant comedic performances and catchy tunes.