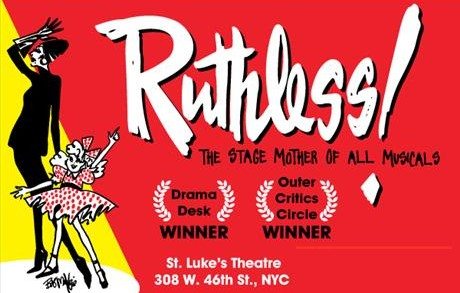 What is Talent?  That is the question asked of the audience at the hilarious show, "Ruthless, the Musical".  A wonderful, irreverent romp that tells the tale of little Tina Denmark and her family, who prove that they are willing to do whatever it takes to become a star.  Think "The Bad Seed" meets "All About Eve", and then add in some song and dance.
The cast is fantastic but the standout performance for me was by Amie Bermowitz, playing Tina's sweet, amnesiac mother.  She was flawless, with perfect comic timing that kept the audience in stitches and outstanding singing, going from sweet to sassy without missing a beat. There is also 11 year old Tori Murray, playing the delightfully diabolical Tina, who has a voice and acting ability way beyond her years.  I also loved the agent in drag who camps it up with the best of them.
I say hightail it down to St. Luke's while you can to catch this fun, campy musical.
EDITORS NOTE:
This is an updated review with new cast.