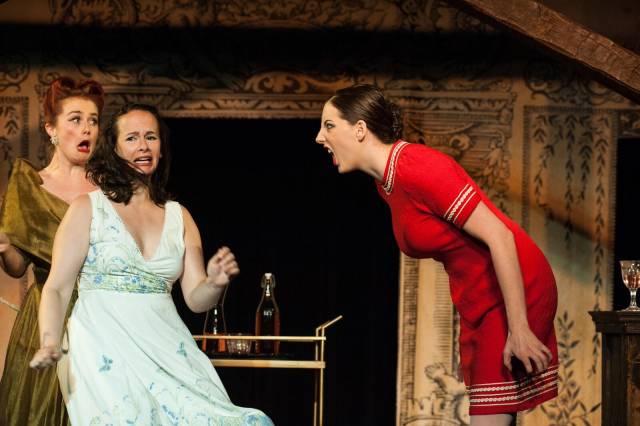 Unlike Shakespeare's many plays that still resonate 400 years later, The Taming of the Shrew's outdated gender portrayals make it a hard piece for contemporary audiences to accept. But that isn't stopping The Theatre Project and TP&co's Shakespeare Off-Broadway series, whose production of the classic comedy is currently running at The Players Theatre. Directed by Christian Amato, this Taming of the Shrew, though uneven in its performances, is a surprisingly adept interpretation of a typically problematic piece.
The Taming of the Shrew focuses on the quick-tempered Katharina, whose widely-admired sister Bianca cannot marry until she finds a husband. This challenge is taken up by Petruchio, who vows to "tame" Kate into being a subservient wife. Shakespeare Off-Broadway present an 80-minute version of the play, which condenses Shakespeare's text without losing any major plot points. This streamlining keeps the plot moving without getting bogged down in Shakespeare's language, making it easy to follow for even those new to the Bard's work. The production also replaces the original "play within a play" framing device, instead kicking things off with a lovely musical performance of Shakespeare's Sonnet 141 by the cast.
The performances of the play itself, though, are where this production falters. There are some strong portrayals, such as Dominic Sellers as Lucentio and Megan Abell's physical comedy as "Biondella," but many of the other performances feel far too exaggerated. To an extent, this campy overacting actually fits the comedy's farcical nature. But simultaneously, many of the scenes that are supposed to be over-the-top moments of farce, such as when Petruchio "tames" Kate by denying her food, feel understated and flat, giving the production an uneven tone overall. An exception to this, however, was Petruchio (Alex Nicholson)'s drunken arrival at his and Katharina's wedding, which was spot-on in its broad comedy.
The true mark of any Taming of the Shrew production is its central relationship between Katharina and Petruchio. Though actually slightly progressive for its time originally, the play's gender politics are now horribly outdated, remaining its most problematic element. This production, however, navigates the piece's inherent sexism quite well, presenting Kate and Petruchio as each other's equals without reimagining or heavily adapting the text. Nicholson brings a bravado to his Petruchio, but also gives off an air of false confidence that indicates he doesn't feel as superior to Kate as his words suggest. As Katharina, meanwhile, Bridget Dunigan stays sarcastically biting throughout; her Kate keeps a sense of agency and confidence that stops her full transformation into a subservient wife.
Though Shakespeare's words are still troublesome, this production thus manages to undercut the play's major flaws. Because of this, this Shrew is actually an admirable production, which entertains without requiring the audience to accept or overlook the sexism. While the show's comparatively high ticket prices of $40-60 make it hard to fully recommend, those who are usually daunted by Shakespeare or put off by the play's typical misogyny will likely find this production to be a refreshing surprise.