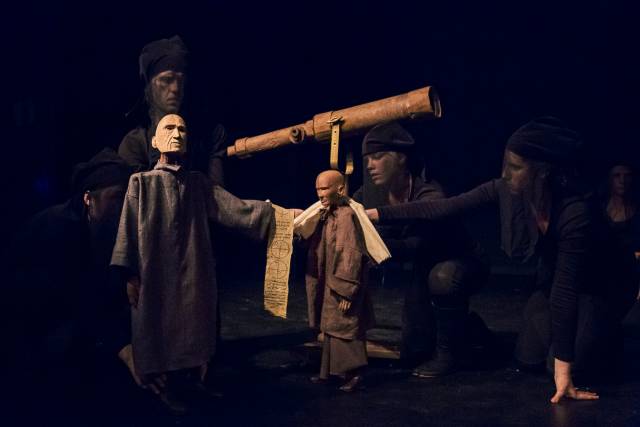 The puppetry and multimedia collaboration Shank's Mare, created by Tom Lee and Koryu Nishikawa V, walks along a web woven somewhere between dream and poetry. It is an amorphous tale with no clear direction and no center that wanders across time and space as it traces the various paths of the characters. It extends in many directions at once and revolves around many centers. It is entirely spellbinding.
The title, which in Japanese is hizakurige, refers to one's legs. The phrase connotes a journey taken with no means of transportation other than one's own feet; to travel like a well-bred horse, in other words, and travel the characters do: through a wilderness landscape, over mountains, to a city of the future and even to Hell. A samurai loses his son and embarks on a violent journey. An astronomer and his young female apprentice embark on a pilgrimage. A golden deity floats beside dead souls and a mystical deer with giant antlers walks through the woods. There is also a very important spider who tries to pay back a favor done for it long ago and redeem a man who is damned.
The puppetry with which these characters are brought to life is something close to magic and the magician at the helm is Nishikawa, the fifth generation headmaster of the 160-year-old traditional puppet theatre company, Hachioji Kuruma Ningyo. The puppets here, each one with distinct features and fine detail, are American-made by an obviously talented crew of carvers and designers. The puppeteers manipulate these creations in the Kuruma Ningyo tradition, which involves a puppeteer on a small rolling cart with the puppet figure's feet held between his toes. The result is an eerie sensation of watching deific avatars carrying on around the stage. There is also some sanninzukai style, which refers to the manipulation of one puppet by three people, on display.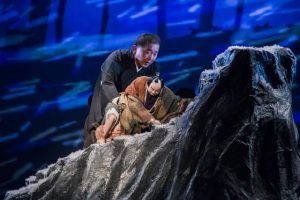 The traditional puppetry in Shank's Mare is wed to the multimedia designs and direction of Lee, who specializes in Asian-inspired forms of puppet theatre. One of the great effects of his contributions to this play are various instances wherein the puppets' points-of-views are projected on a screen in the background, thus causing a strange intimacy to develop between audience and puppet. There is also a miniature revolving city-scape in the corner of the stage that suggests the theme of interconnectedness that runs through the whole of Shank's Mare.
Shank's Mare is ultimately a collection of moments that is at once cohesive and incoherent, kind of like life. It might not all quite make sense in the end, but that also isn't really the point. Both funny and sad, it is a tonal meditation that extends sensuously beyond the limits of its run time and signifies that, indeed, no man is an island.
On until November 15 at La Mama Experimental Theater Club, Shank's Mare is part of the biennial La Mama Puppet Series which showcases new contemporary puppet theater by American and international artists. The La Mama Puppet Series runs until November 29.