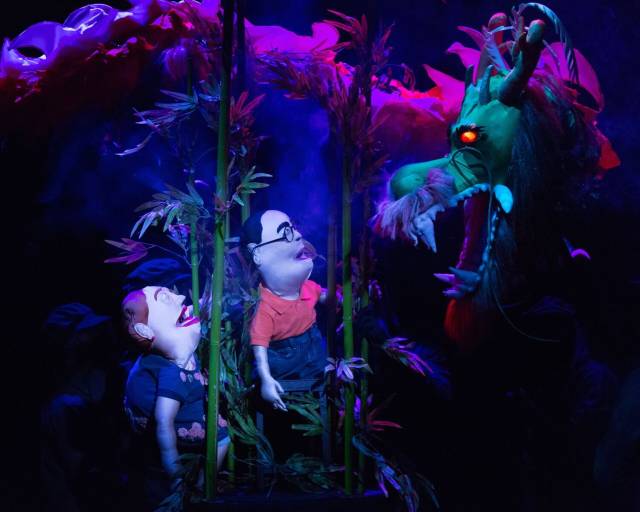 Wakka Wakka's puppet musical, Made in China, is a fantasizing riff on a bizarre and troubling true story that took place during October 2012 in Oregon when a woman brought some cheap Halloween decorations home from K-Mart. When she opened them up, she found concealed inside the packaging a note from a prisoner in a forced labor camp located in northeastern China.
"Sir," read the note, "If you occasionally buy this product, please kindly resend this letter to the World Human Right Organization. Thousands people here who are under the persicution of the Chinese Communist Party Government will thank and remember you forever [sic]."
Detained for his religious devotions, the inmate went on in that same kind of broken English to detail the conditions of the labor camp and give some specifications on its whereabouts. The woman, Julie Keith, went public with the letter and investigations ensued.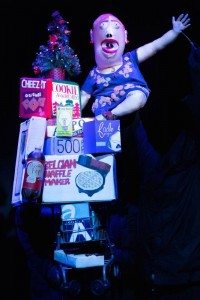 In Wakka Wakka's production, a lonely middle-aged woman discovers a similar note after a depression-fueled shopping spree, and she pulls her expat Chinese neighbor into an adventure that takes them to China via her toilet, during which excursion they are imprisoned in a forced labor camp before returning to America via a dragon's digestive tract. Despite some clunky chunks in the middle of its duration, Made in China is wacky and thoughtful, a bit obvious in its message perhaps, but with a good heart, and it is generally pretty funny—no particularly easy feat considering its references to a dark reality.
The humor of the piece is greatly aided by puppets which, though rather cartoonish, are brought by the puppeteering talents of the company vividly and delightfully to life—so much so that it is easy to forget the comic-strip-like nature of their beings, drawn, as it were, into the context of their reality. The 'human' characters are silly, endearing, and surprisingly relatable; the non-human characters, such as the singing plunger, weave plenty of whimsy and consumerism-commentary into the satire.
It is a musical and the songs range from amusing to tedious. Some of the numbers—like one in which Mao Zedong and Uncle Sam caricatures dance around each other as if in some mad vision of a political cartoon—are full of wit enough; while others—one in particular that is sung by a puppet of the artist Ai Weiwei—just make the whole thing seem too long.
For the most part, the show is a highly digestible affair that is visually sweet and deceptively disturbing. For all of its antics and clowning, Made in China is ultimately a wrapped-up and decorated daydream of a story that ought to force the audience to consider as consumers the choices they make and how actions, no matter how small, can have profound and global implications; it is an exploration that is significantly important in this time of ours.