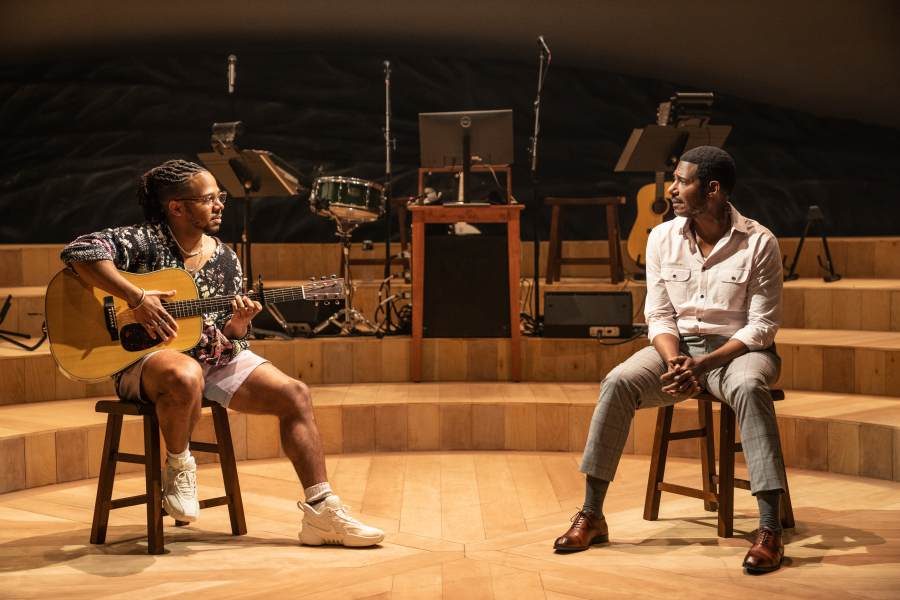 Every now and then, between revivals, jukebox musicals, movie-based musicals, and productions hellbent on making a statement, you come across that increasingly rare thing in theatre: an original, bare bones musical so tenderly moving you find yourself shaking with emotion by the end of it. Such is Jeff Augustin's heartbreaking Where the Mountain Meets the Sea. Directed by Joshua Kahan Brody, this Manhattan Theatre Club production at New York City Center Stage I is a powerful tale of a father and son separated not only by time and distance, but by personality, life experience, loss, and fear. Music--supplied by The Bengsons--turns out to be the only thing capable of bridging the gap.
If Where the Mountain Meets the Sea starts slow and meanders a bit, and if the score could use just one or two more upbeat numbers, a devastatingly gorgeous finish more than makes up for these minor errors in this glowing gem of a show. Jones and Myers are dynamically vulnerable, Jeff Augustin's writing lyrically engaging, and the production itself rife with both joy and grief.
The setup is minimal but effective: circular tiers in front of a distant-looking mountain, which, thanks to lighted mirrors on either side, seems much larger than it is. Singer-songwriter duo The Bengsons remain center stage for nearly the entire show, while the two performers move freely, microphones in hand. As Jean (Billy Eugene Jones) narrates his voyage from Haiti to Miami, his struggle to adjust to American life, and his journey to falling in love again, his son Jonah (Chris Myers) describes his own adventures in love on a cross-country roadtrip to retrieve his father's remains and return them to Haiti.
Though the two stories are decades apart, they anticipate and echo one another. Jonah's roadtrip traces, in reverse, the route his newly wed parents took when his mother was pregnant with him. Along the way, both men voice their insecurities (will their lovers love their bad qualities as well as the good?), their desires (to make teaching their life), and their painful yearning for connection. Never mind the differences that kept them apart in life: like father, like son. The two have much more in common than they realize.
Those circular tiers are fitting: this story is a circle, told in two halves that only connect in the show's final moments, and it contains layers--tiers of meaning that unfold slowly. Paradoxically, toward the close of the show, the two share their first scene: a memory Jean has of driving Jonah to college. Father and son sit in complete silence, unable to say anything to each other. Jean is plagued by fear and emotion, and Jonah doesn't know how to open up. But moments later, in the final scene, both men are reunited outside of space and time for a duet. As Jonah plays guitar and softly sings, stroking the strings almost without touching them, his father sits beside him, merely looking at his son. Then, unable to keep silent any longer, he sings. Where the mountain meets the sea, music is born.