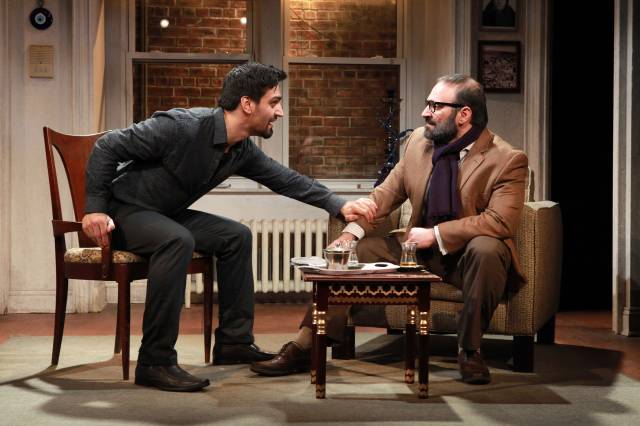 Shesh Yak, now playing at Rattlestick Playwrights Theater, is a ruthless two hander about two men whose past trails them like stray dogs.  It is the spring of 2011, five weeks into the civil uprising in Syria, and we are in Jameel's tiny apartment, complete with all the miniature comforts of New York dwelling -- a set that is both sparse and comfortable, considering the atrocities to come. Jameel (Zarif Kabier), our erratic protagonist, has an all too familiar conversation with his unrelenting mother (a woman clearly eager to wed her son) while he awaits the arrival of Haytham (playwright Laith Nakli), a Syrian ex-pat and leader in the anti-Syrian government movement and nouveau American celebrity.
Peachy right? As Haytham arrives to Jameel's home, we get our first taste of Nakli's slow-boil storytelling. We spend a good long while on exposition as the men have a "those were the days" tête-à-tête about Syria, soccer, and the old haunts back home. There is quite a bit of this pseudo cool celebrity culture sprinkled in the beginning with references to Angelina Jolie, George Clooney, arabmatchmaking.com, and, naturally, #Haytham trending on twitter. All this remembrance isn't in vain as it foreshadows the event to transpire. However, the play loses its forward thrust as it lingers on dawdling details.
Even with so short a running time, the audience grows restless as we await a climatic turn. When this volta arrives, it is enough to compensate for the play's shortcomings. Both unnerving and humanizing, we are sucked into a world whose narrative is not often handled on the stage.
Nakli plays Haytham with a grace and dignity that is hard won and Kabier is a vibrant, albeit affected Jameel. Despite a clumsy torture scene, Shesh Yak succeeds in creating complicated characters who pray for absolution and whose contrition feels anything but slow.