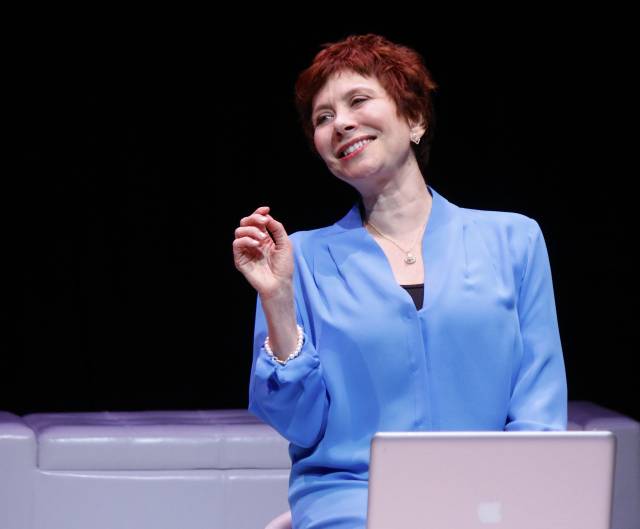 In the cleverly insightful autobiographical musical Shoes and Baggage, actress Cheryl Stern seeks to shatter several myths about life in the spotlight, while creating a piece of art that undoubtedly works as an accountability system. The show opens with an upbeat dance song (all music is by Tom Kochan) about the constant threat of online sales, everything from bags to shoes conveniently offered to customers with just the click of a button. "Click, chick, click" goes the infectious chorus, as we see images of beautiful accessories projected above the runway-style stage. The clubby feeling comes to an abrupt end as Ms. Stern enters the stage to tell of how she wakes up in a cold sweat every time the bills arrive. She knows she has once again outdone herself by going on shopping rampages that will leave her in bankruptcy. But just as she is starting to feel hopeless, an email arrives announcing a sale in Balenciaga bags, which have gone from being $3000 to a mere $1500. It's the most stylish ouroboros of all time.
Ms. Stern then proceeds to tell us about how most of the highlights of her life, both personal and professional, have been accompanied by her need of "looking the part". How was she meant to arrive to opening night of The Women on Broadway without the right designer dress and the shoes to go with it? How will she ace her auditions without the right sexy pair of jeans and sweater to match? Even the death of one of her dearest friends in the world is marked by "clothes talk" as she was set to inherit an item of clothing that was very important in their relationship.
Throughout all these trials and tribulations, Ms. Stern remains completely self-aware and that is what makes the show more of a heartbreaking satire, than a celebration of style above everything else. Beyond her "theatre person" joie de vivre, huge smile and bright eyes, Ms. Stern knows she is showing us the face of addiction, and how - without sounding ominous or didactic - what happened to her could happen to you. In a world that often makes people believe they must live beyond their means, just so they can look like people with endless means, Ms. Stern's confessional is not only welcome but very necessary.
Beyond its sleek facade (for the show is expertly crafted and directed by Joe Barros) Shoes and Baggage is excellent satire; entertaining, enlightening and challenging. It's fascinating to see Ms. Stern try to decipher how exactly she became this person obsessed with shopping, and she seems to have an inkling because she has many scenes that speak of her childhood, how her mother wanted her to look "clean and crisp" in a new blue dress that highlighted her blue eyes. Ms. Stern makes a connection that would have made Freud smile by having this epiphany as she tries on a cobalt blue cardigan. That she buys the cardigan anyway being the heartbreaking punchline. For a show that makes a play of words on "changing room" by literally highlighting its meaning as being a "room for change", Shoes and Baggage has such sincerity and lovable awkwardness that one can truly call it the theatrical equivalent of a "wardrobe basic".