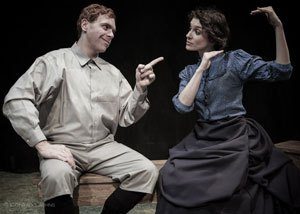 In the game of baseball, signals rule the field: there is a call for safe, a call for an out, calling a player off a fly ball, a sign for a pitch, and face-touching from the coaches. In "The Signal Season of Dummy Hoy", presented by the New York Deaf Theater, we learn through powerful storytelling and humorous dialogue exactly how these signals developed, and who was responsible for revolutionizing the sport America loves.
This piece tells the story of an unexpected marriage in the early 1800s between baseball and the deaf. Born without hearing in 1869, William Ellsworth Hoy (J.W. Guido) -- dubbed "Dummy" by his teammates of the Oshkosh Minor League team -- was a truly talented ball player with enough education and pride to change forever the way Americans thought about baseball. After being recruited to Oshkosk, Dummy quickly became regarded as a strong hitter; however, he could only interpret people by reading lips. While up at bat, Dummy could not understand the umpires, often resulting in strike outs. With a winning season slipping through their fingers, the Oshkosh coaches urged Dummy to meet with an umpire. Together they created hand signals that benefited spectators, team members and Dummy.
This story is told through scenes both in American Sign Language and English. Above the stage is a screen used for captioning, which also represents a scoreboard. Director Marlee Koenigsberg says, "just like the function of a scoreboard, the function of the captioning screen communicates to us what is happening on stage." This feature allows for the inclusion of all audience members while still giving them the space to interpret what they see. At times, scenes move in slow-motion, without sounds or words; this to elicit the experience Dummy is having on stage.
Our modern society has embraced signals between players, coaches, and referees within many sports. Dummy Hoy's pursuit to follow his dreams, and determination to gain respect, has impacted American culture. Awareness has grown, bringing new perspectives to those with disabilities. By the end of the 19th century, sign language had been born, new education had been established for the deaf community, and human rights were recognized. Let us appreciate not only the game of baseball, but the diversity and awareness that it has brought to our lives.