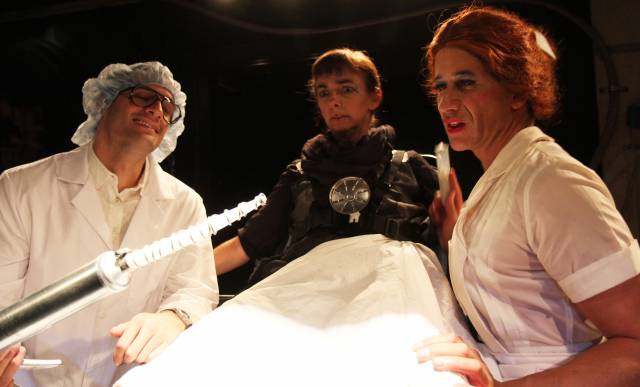 The term "the singularity" can refer to a number of different theoretical futures that humanity could face. Some are more specific and often-discussed than others, but all carry both hope and anxiety for the future. It is a loaded term that betrays the two poles of human response to the possibility of extreme change – change that could be nearer than we imagine.
Crystal Jackson's The Singularity – a production by the Virago Theatre Company now playing at The Flea – is often vague about what the future may bring, though it does incorporate some specific ideas, such as projections about human (and half-human) fertilization and experiments with dark matter. But mostly these sci-fi elements are shallow and merely offer gags in this strange new comedy.
The humor in the piece is primarily situational, revolving around the conditions that Astrid (Laura Lundy-Paine) is in. She has one last remaining egg, and scientific advancements allow her to know exactly when her final chance at pregnancy will be. Astrid desperately wants a child, but she doesn't have (or want) a man in her life to help her conceive, so she goes to great and sometimes almost inconceivable lengths to try and create one.
Lundy-Paine does well with what she's got, but her character is in a constant state of distress: Astrid may not smile unsarcastically a single time in the seventy-minute production. Dan Fagan and Michael Vega complete the cast, and both actors play multiple roles who often exist primarily to attempt to cheer Astrid up a bit. It never works.
The design is exceptional, both visual and audio. This is particularly true given the confines of the theater that the production is lodged in. The scenic design allows a flat backdrop to serve as five (or more?) different locations without a single shift. But more than anything, the ability to visualize all of these technology-ridden post-apocalyptic scenes at once creates a cold new future that plants itself firmly in the audience's imagination.
The Singularity is most successful when playwright Jackson embraces the strangeness of the world she has created. This is true in larger narrative senses, such as with the human/dark matter hybrid that the play creates. But it is also true in smaller ways, little details like the unexplained chalk outline of a drinking body found in Astrid's local watering hole. Ultimately, this daring bit of stage futurism fails to live up to its conceptual potential – the play doesn't dig deep enough into its own suggestions. But Jackson's writing hints at a greater imagination that might manufacture more fully-formed futures.