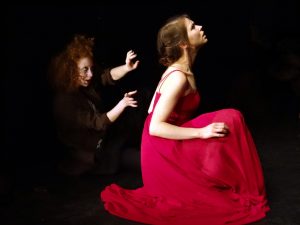 In the story of "Macbeth", the King is out in battle when he receives the news: "The Queen, my lord, is dead." Anais Koivisto, the director of "Something Wicked", picks us up from the edge of the seats where Shakespeare leaves us, and provides insight into the mind of the Lady as she awakes in purgatory. As her eyes flutter open, the night is dark; strange creatures surround her.
At the announcement of her death, Lady Macbeth (played by Kathryn Connors) falls slowly from above and lands center stage. She wears a red gown, signifying the bloodshed she has caused – the blood she can never wash away. Here, the window into Lady Macbeth's mind opens wide, allowing us a glimpse of her truths, untruths, misdeeds, and repentance. An unyielding reminder of her sins -- "What's done cannot be undone" -- lingers on the tongues of three witches who surround the Lady.  In her journey through purgatory, she walks, invisibly, in and out of scenes from her past, which are portrayed by other actors on the stage; at times, several of these scenes are acted out simultaneously, unfolding side by side.
As explained by Koivisto, "Several characters from Shakespeare's 'Macbeth' are given a chance to speak to Lady M from beyond the grave." "Something Wicked" has no separate acts; the play moves fluidly, one scene falling into the next almost to the point of confusion. The visions start with nightmares, move through the murder of King Duncan, and explore the madness that lives within Lady Macbeth. As she watches the creatures around her, Lady M appeals to them: "Who can be wise, amazed, temperate and furious, loyal and neutral, in a moment? No man: The expedition of my violent love outran the pauser, reason." It is evident that despite her wicked intent, Lady Macbeth loved her husband (played by Zachary Libresco). The couple dances a sensual tango in the midst of murder and deception, displaying a love so strong, it tore down an entire kingdom.
"Something Wicked" fulfills a void Shakespearean lovers have longed for: an explanation to the abrupt end of Lady M's life and an exploration of her psyche.  The cast exemplifies incredible talent; each actor contributes to the dark nature of the play in song or instrument playing (violin, banjo, tambourine). Although the play is short in length, Anais Koivisto transports her audience into Lady Macbeth's new reality with passion, vivid imagery, and brilliance. It's an intimate and whimsical performance you're not likely to forget.
"Something Wicked" is part of the FRIGID New York Festival, which continues through March 9.  For more information, click here.