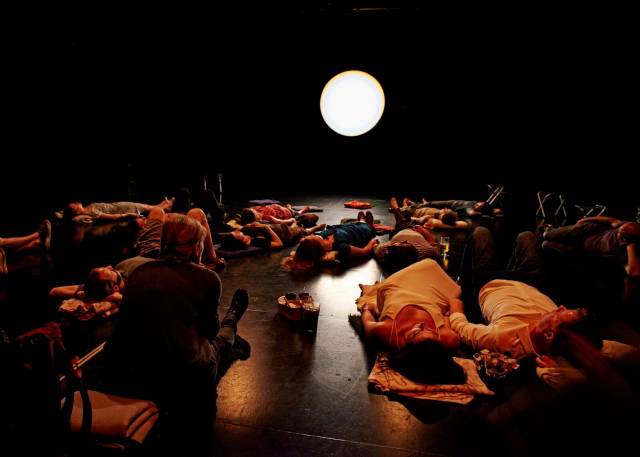 Part of living in New York City includes complaining about living in New York City, especially when it comes to the fact that it's quite difficult to find tranquility in "the city that never sleeps". The bustle and hustle of the subway, tourists that move a little too slow, and the endlessly manic presence of traffic, makes New Yorkers seek refuge in spirituality or the arts. With theatre being the preferred escape method of many, as it transports audience members to far away places where they can forget about New York for a couple hours (only to come out, and praise the heavens for living in a city where theatre thrives, but that's another story…) Thanks to the marvelous artists of Melbourne-based Ranters Theatre, New Yorkers can take this experience to a completely different level in Song, an installation that combines all the things New Yorkers not-so-secretly crave: the feeling of being whisked to a distant place, the joy of a live performance, and a notion of individualism within communion.
The piece takes place in a mostly darkened room illuminated only by a prominent circular light (like a giant version of those tap bulbs sold on television) which gives off reddish/orange hues, like a dreamlike sunset. Audience members are invited to lie down, or sit, on the floor - bright red pillows and blankets await - and without further instruction, the room is inundated by various sounds - falling rain, crashing waves, animal calls, cars - that vary through the length of the piece (a brisk 70 minutes). Every now and then, performers we never see, sing an assortment of folky tunes that sound like Joni Mitchell by way of Zero 7. Then the performance ends, and we know it only because the lights are turned back on and an usher points towards the exit.
While the piece sounds slightly New Age-y, there is something transcendental and beautiful about its simplicity; because we don't know what to expect, each of us are allowed to turn it into whatever we desire (a feature of truly great art). For some it might feel like a surreal "camping" experience in the middle of the city, for others it might be an anxiety-filled challenge, as not knowing what to expect brings an undeniable sense of uncertainty. What if the "twist" is they'll terrify us?
Conceived by designer Laura Lima and composer James Tyson (who is co-listed as performer with Patrick Moffatt), and featuring stunning sound and light design by David Franzke and Stephen Hennessy, Song at times felt like being "inside" Kate Bush's extraordinary "An Endless Sky of Honey" from her Aerial album. It was an experience of sensual wonder, that managed to entice the body without ever being overwhelming. Equally relaxing, scary and inspiring, earthly and divine, it can best described by one of the lyrics from one of its songs, it was "a welcome return to grace".