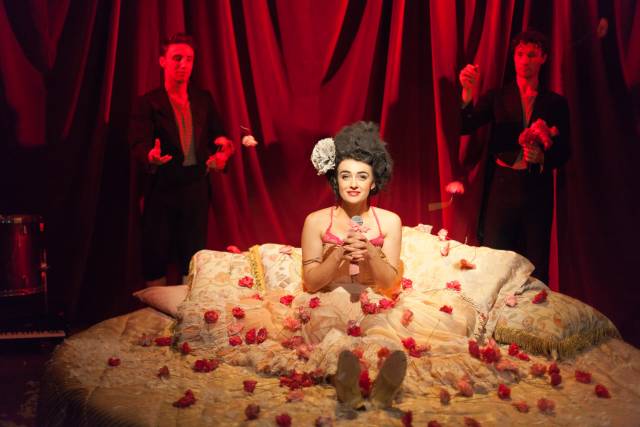 When you know your show will end up being compared to something else, how best to get it out of the way than by establishing not only that you are aware of it, but that you embrace it wholeheartedly? With its top hats, dying grisettes and pop music, Songs for the Fallen seems to have been created by the world's biggest Moulin Rouge! fans, who put their love of Baz Luhrmann's film to good use by using it as the inspiration to tell the story of Marie Duplessis, the real life courtesan who herself inspired the character played by Nicole Kidman in the film, which itself was inspired by Alexandre Dumas' The Lady of the Camellias. Talk about meta!
In the show, Marie is played with coquettish ferocity by Sheridan Harbridge, who also wrote the book, and music & lyrics (with music director extraordinaire Basil Hogios). Part vaudeville act, part rock musical, part very intimate cabaret, Songs for the Fallen is an energetic love song to all of the artforms it pays homage to. Anchored by Harbridge's divine performance as Marie, the show becomes rather informative without being dull, sexy without being vulgar and heartbreaking without being flat out depressing.
Perhaps because it's about a woman who remained an enigma, the show's moments of true poignancy are spread throughout, and arrive like sudden bursts of light, like when Marie sings "dreams were made for boys", an eureka moment that make us feel as if she's coming up with the lines along the way. Backed up by Garth Holcombe and Simon Corfield - both of them wonderful - who play an array of character that range from Dumas to Marie's maid Clotilde, the show is an enjoyable romp with vibrant music that recalls Portishead covering Verdi.