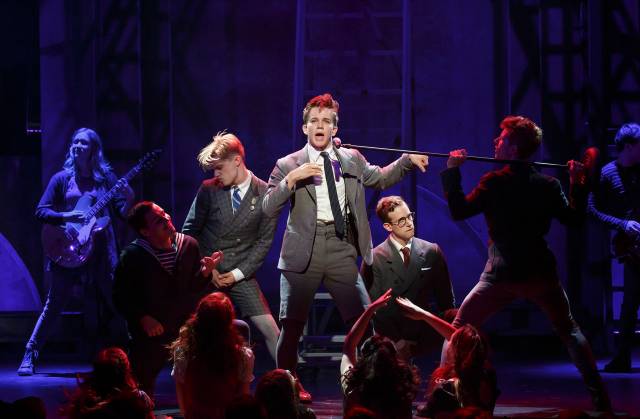 It hasn't been that long since we last saw Duncan Sheik and Steven Sater's Spring Awakening on Broadway, in fact it's been less than a decade since the original production closed, so why revive it so soon after? Besides the following the musical has gained thanks to having launched the careers of idols like Jonathan Groff and Lea Michele, the truth is that the ideas conveyed in Frank Wedekind's original play - dating all the way back to 1906 - are sadly still quite relevant. While teenage pregnancy rates have decreased in recent years, we are still seeing a reluctance from part of educational institutions to introduce more rigorous sexual education courses, not to mention the fact that teenage suicides in part owed to peer pressure and bullying have become a part of everyday life.
Perhaps there will always be a gap between the way older generations perceive the issues that affect younger ones, and if so, Spring Awakening, as any good coming-of-age story, will never stop being relevant. And yet as staged by Michael Arden in this revival, there is an urgency to the show that makes it entirely and uniquely of 2015. The current production originated in California with the Deaf West Theatre, and is performed by a cast consisting of non-hearing and hearing actors, who interpret the songs using sign language and traditional vocals. If the idea of a musical using sign language seems at first to be incongruous, there is a strange beauty to seeing the cast sign together, because it makes for truly soulful choreography. While it's commendable for a Broadway production to attract new, usually neglected, audience members, there is also a bonus for traditional spectators, who are delivered messages on multiple layers, watching the ensemble sing and sign together makes for an overpowering experience.
Arden and co. seem intent on going beyond the limitations of language, and Spring Awakening becomes a truly sensual experience, in which all of your senses are stimulated. There are scenes in which the smell of incense arrives before we see the priests carrying it, other scenes in which our vision is blurred by the use of multiple lights (their rendition of "The Mirror-Blue Night" is one of those moments that you can assume will become iconic) and then there is of course the music, which is now performed by actors in modern costumes who stand behind/beside the non-hearing actors playing the main characters. The minimalist orchestra stands in the back, with a prominent piano making its way onstage as needed.
If at times the show feels like there is too much going on - it takes some time to figure out whether we should be watching the non-hearing actors or the people singing behind them who are also emoting - the truth is that this makes for an experience that is often more rewarding on an intellectual, rather than an emotional level. It's impossible to see this show and not think of how it's actually a show about the art of making theatre, how many people can see themselves in the idea of having someone else voice their feelings. Letting the songs speak for you, allowing them to serve as a slate on which to project your fears, hopes and illusions, that is precisely why people come to see musicals.