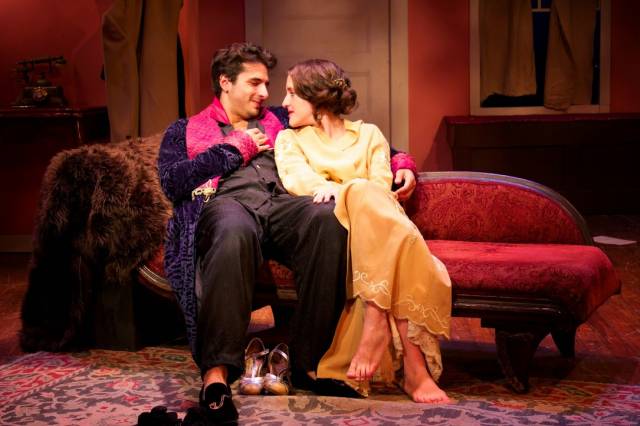 Whenever I read that an off-off Broadway theater company is putting on an eighty-year-old farce, my face instinctually contorts into the most apathetic, judgmental, completely involuntary eye-roll that it can possibly form. I don't say this with prideful cynicism, but rather to explain a deep-set bias that I wish I didn't have. God help me, I pray daily that I could be a more optimistic, open-minded theater-goer; try as I might, I was born this way.
That's why I am so pleasantly pleased and surprised to say that The Attic Theater Company's production of Preston Sturges's 1929 play Strictly Dishonorable was one of the most impressively engaging, refreshingly modern, and intuitively crafted pieces of theater I've seen in the past year.
Set in a prohibition-era Manhattan speakeasy, the play centers around new-to-the-North Southerner Isabelle Parry. Simply looking for a drink in a lively bar with her controlling Jersey-bred fiancée, Parry eventually finds herself desperately attracted to famed opera singer, local ladies man, and upstairs tenant Count Augustino di Ruvo. Shenanigans ensue.
Strictly Dishonorable is a well-curated play if nothing else, and in many ways Sturges's script could have been written yesterday. In a note to the audience, director Laura Braza described Sturges's ability to "capture the awkward and charming in-between moments we experience when we're trying to negotiate some big idea." Awkward moments – something many of us tend to think only recently became the fodder of comedy – are written here with hilarious specificity. Add to that a bevy of seemingly third-wave feminist undertones, and we're talking about a script that is undeniably ahead of its time.
Doing justice to that script is a director who not only understands the material, but also knows how to stage a freaking group scene. Strictly Dishonorable is definitely an ensemble piece, and Braza is a director up to the task. Nearly the entire first act is comprised of group scenes; Braza crafts them in such a way that is as much in service of the story as they are tailored to work for the space, set, and look of the show.
A director is nothing without her actors, and Braza was not lacking for talent in that department. While elements of the play are farcical, rarely is the comedy broad. The cast plays smartly and sincerely off of one another, and the laughs come almost entirely from the tender, intelligent performances within the absurdity of the circumstances.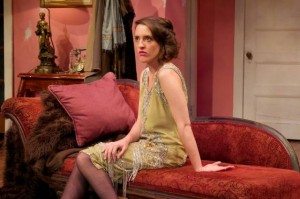 If I had to pick a standout performance – and it's difficult to do with this production – that honor would go to Keilly McQuail, playing Southern ingénue and lead Isabelle Parry. Reminiscent of a young Bernadette Peters (a comparison I do not use lightly), McQuail flutters fantastically through her character's arc, effortlessly moving from moment-to-moment with emotional resonance, pointed humor, and an endearingly quivering vocal cadence.
The supporting cast is not without its stars. William John Austin delivers a hilarious, paranoid, and wonderfully quirky turn as Officer Mulligan, rising above what could have easily been a problematic Irish cop stereotype. Likewise, Christopher Tocco and John Robert Tillotson are so lovable as the Italian bartender and drunk judge - and so committed to their roles within the larger story – that they are very nearly the spine of the production.
Perhaps it's because I expected something that felt dated and out of touch, but Strictly Dishonorable was a fresh, funny, and fun experience, and I look forward to more of what The Attic has to offer.