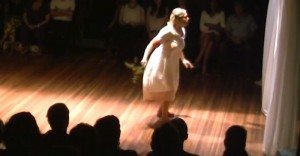 We've all been struck at one point in our lives: struck with fear, struck with awe, struck by Cupid's arrow. We understand each meaning, the emotions elicited from within us.  But when one is struck with stroke, how should we react?  In a nonfiction play, "Struck", created and personified by Tannis Kowalchuk and Brett Keyser, we are removed from our own reality while experiencing the inner turmoil of Kowalchuk's brain when hit with an occlusion. Through a mixture of monologues, video montages, and character interactions, "Struck" explores the boundaries of the unknown.
As the play begins, the audience is presented with the very situation Kowalchuk herself experienced. A routine day on the farm has become confusing and blurry. Before she knows it, Kowalchuk has fallen to the ground and suffered a stroke. The morning's events are clear, the result undeniable.
As Kowalchuk leads us into the depths of this moment of realization, however, I cannot help but think that we are meant to be confused. After all, this shared confusion is the best way for us to empathize with Kowalchuk.  Her mind flutters between childhood memories, languages once spoken, and random spurts of knowledge.  It is difficult to distinguish between what is real and what is just a figment of the imagination -- a struggle, of course, that is not isolated to brain injury patients alone. The inexorable question "what is happening?" persists.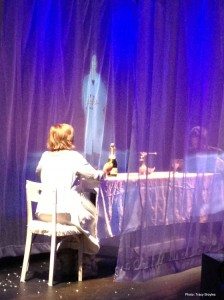 In the western hemisphere, medical revelations and medicines are only an insurance plan away. Almost every illness has a cure, or, at the least, a temporary antidote. Neurologists have come a long way in their understanding of the mysterious, unfamiliar control center of our bodies, but there is still much we don't know. Kowalchuk asks, "What happens when we don't understand what is going on, and, when facing our own mortality, why do we need to keep living?" In a scene that revolves around a long table covered with white linen, a chalice, and a bottle of wine, the symbolism suggests that Kowalchuk is at her 'last supper'. We hear voices from her doctors in the distance overlapping with a strange language coming from Brett Keyser -- perhaps representing her preconscious mind. The inner dialogue of her mind unfolds onto the stage before us, revealing her acceptance of the occurrence and desire to fight it.
Kowalchuk and Keyser's very modern aesthetic works well here. Interpretive song, dance, and video combine like the pathways of the brain, working together for self-recovery.  The use of video projections onto sheer curtains and silver screens, in particular, adds an element of perception that could not be described through physical movement. For instance, an aurora above the stage is able to contain a multitude of meanings: sometimes, it acted as a North Star, noticed when things were of place and Kowalchuk was looking for someone, or something, to guide her.
Kowalchuk's fortuitous recovery has allowed her to tell her story and revel in the present moment in a powerful, passionate performance; and as she bowed onstage to the sound of a roaring applause, she proved she had defeated her odds.
Performances of "Struck" continue through December 21st.  Check out our full event listing for more information: https://stagebuddy.com/listingdetail.php?lid=16065