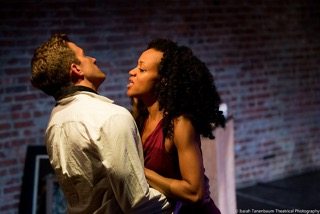 The Taming of Cats is a whodunit tinged with darkness and the supernatural that manages to be a bit funny at the same time.
The show opens on a disturbing scene: Catherine (Kim Gainer) runs into her apartment soaked in blood, with no idea what has happened. Her sister Renee (chandra thomas), who is also a nurse, thinks Catherine has been raped and implores her to get checked at the ER. Catherine believes her inability to remember such a violent episode is due to their family's bipolar disorder and alcoholism. She is hesitant to get help.
In a parallel plot, Jonathan (played by a hilarious Ken Simon) has been blocked by the woman he has been stalking online and so turns his attentions to Catherine, whom he has seen somewhere in real life. An IT consultant, he quickly accesses her whole life online and uses this info for his stalking. Catherine also strikes up a wary friendship with Tom (Andrew Baldwin), her krav maga instructor. He seems to have secrets of his own. At one point, you do not know which guy is creepier, the seemingly perfect Tom or nebbish, secluded Jonathan. It is a good balance and shows the very real issue women face when meeting men in their life.
There is some maudlin dialogue of the sisters talking about their messed-up childhood, which seems de rigeur whenever two grown siblings are in a play. It went on too long and was frankly a bit boring.
Natalie Wilson's play features a well-dressed set by Izmir Ickbal, who makes good use of the limited space, showing parallel storylines without necessitating scene change. (I particularly liked all the piled-up pizza boxes, full trash can, and McDonald's soda cup in Jonathan's studio. Nice touch.) This keeps up the fast pace as the plot builds to reveal exactly what is going on -- but the audience still doesn't see it coming, which is part of the fun.
Costume design by Noelia Mann was accurate to the last detail, especially in the different scrubs to denote Renee going to her shifts at the hospital as the days passed, and an array of graphic T-shirts featuring comic book heroes for Jonathan. There are some action-packed scenes in the small space, which is a credit to the actors and to fight director Adam Swiderski. There were some sound issues at the performance I attended, but the cast rallied through it, with playwright Natalie Wilson reading out sound cues as needed. This did not take away from the production and in fact injected some levity at tense moments, which was rather nice.
All in all, The Taming of Cats is an entertaining show with a visionary plot. It dares to take a risk, and the risk pays off.