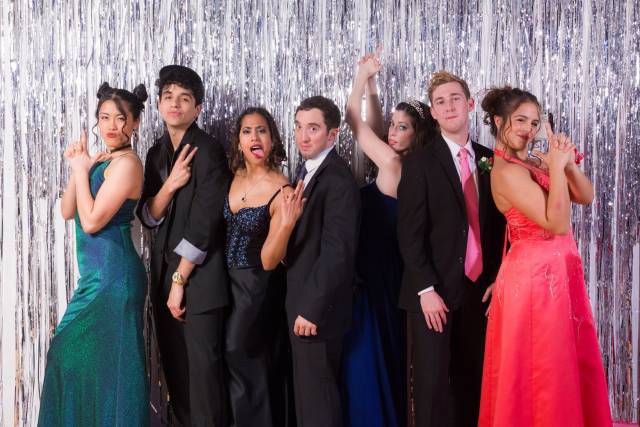 It's time to party like it's 2003 in Taylor Mac's OKAY, a subversively brilliant production by the folks at UglyRhino, under the direction of Danny Sharron. The play takes place entirely in the girls' restroom of an unidentified high school, where ugly truths and beautiful lies come to the surface as a group of students celebrate their senior prom. Stephanie (Eli Pauley) is terrified that her classmates will learn about the secret she's been hiding for months, although one has an easier time figuring out what it is from looking at her fearful expression, the position of her hands around her belly, and her profuse sweating. "Lucky" for Stephanie, the people around her are so committed to staying within the limits of their own world, that she could have monkeys on her face and no one would notice.
As Stephanie locks herself up in a stall, her best friend Jordan (an unforgettable Vanessa Bretas) keeps going on and on about the boy she likes and how they must be connected because they both love the same "old song". Then A-type Trish (Manini Gupta) and her submissive friend Trinity (Lindsay Rico) arrive to share some drugs and complain about society. Other intrusions include the love-stricken Josh (Will Dagger) who calls out for the girl he likes, and Mike (Stephen S. Chacon) and Tommy (Delano Montgomery) who seek to find a stall to explore their newfound sexual orientation.
Each of the seven characters that appear onstage contain archetypal qualities that are beautifully humanized by the layered work of the ensemble. Most of them deliver cleverly written monologues in which they comment about the state of America in the aftermath of 9/11, and we understand for many of them it represented the very first time they became aware of their mortality. It's the end of the world as they knew it, and they are determined to make a mark, to be heard, to leave something behind. Mac's writing perfectly encompasses the heartbreak, disillusionment, but also the undefeatable lust for life they feel.
As songs like Nelly's "Hot in Herre" and Christina Aguilera's "Dirrty" (what was up with the double r's in songs of the era?) blast in the background (the sound design by Valentine Monfeuga is exquisite) they don't mock the characters' profound ponderings, instead they help transport the audience to a time and place where they too might have thought they would live forever. Did 9/11 make everyone more aware of the world around them, or did it make them find refuge in themselves instead? "Not much is left of Baghdad, that's where words were created" exclaims a disappointed character who can't fathom why destruction must demand more destruction in its wake. Then Daniel Bedingfield's "Gotta Get Thru This" starts playing as if by poetic justice, and the characters are given the small mercy of a call to the dancefloor. And really, why would they want to be anywhere else?