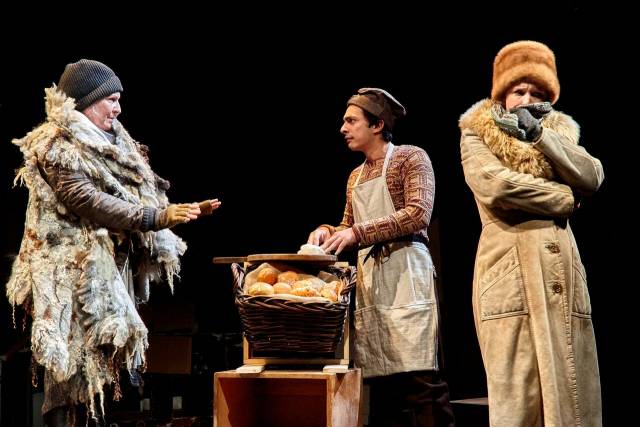 For those whose familiarity with Tennessee Williams is centered primarily on better known works like The Glass Menagerie, A Streetcar Named Desire, and Cat on a Hot Tin Roof, the two obscure one acts presented in Playhouse Creatures Theatre Company's Tennessee Williams 1982 will, at the outset, have interest only as curiosity pieces from the final stage of the great playwright's illustrious career. Indeed, the second of the pairing, "The Remarkable Rooming-House of Mme. Le Monde," will likely prove so shocking against Williams's early masterpieces that it is hard at first to accept on its own terms. The other work on display here, "A Recluse and his Guest," is likewise so wildly different from not only the aforementioned earlier plays, but also the play with which it is presented, that one must allow the disorientation to pass before processing what has been witnessed and the standalone value of these two plays.
"A Recluse and His Guest," in its world premiere, concerns an initially androgynous woman in smelly animal furs, Nevrika (played by Kate Skinner), who wanders out of the woods in a vaguely Scandinavian town in an indeterminate time gone by and insistently shacks up with a paranoid recluse named Ott (played by Ford Austin). The sharply articulated emotional resonance and neo-archetypical characters against a setting that is at once dreamily recognizable and dreamily strange lends to this first of the pair of plays a mythical quality and taps symbolically into the subconscious in the same way that a fairytale does.
"The Remarkable Rooming-House of Mme. Le Monde" is no less symbolically rich, but in a very different way, and it acts as the other side of the coin to the themes of repression that were key defining factors of some of those earlier plays; indeed, the libido is fairly allowed to do as it wishes here, restrained only minimally by the society surrounding it and much less for conventionalized morality than for social gain and upward mobility. Flavored with a punkish aesthetic, the story takes place in an attic in London and concerns Mint (played by Jade Ziane), who is a paralyzed boarder of the eponymous madame's and who gets around the space by a series of hanging hooks from which he swings and repeatedly falls. He is put to sexual use by the madame's demonic son (played by Declan Eells) in acts that straddle a line between assault and consent. Besides this Mint has invited an old school acquaintance, Hall (played by Patrick Darwin Williams), up for tea, which Mint is by his guest repeatedly denied. Conversations about serial killers, chickens, and groping, among other topics, unfurl until the cataclysmic final appearance of Le Monde herself (also played by Ms. Skinner).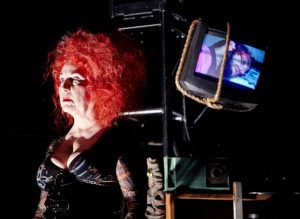 The merits of Skinner's acting lie largely in the jarring range she displays between the two characters she inhabits between the plays, jumping the wide distance from one to the other, and the rest of the cast does a fine job of embracing the humanity in roles wherein it is tricky to do so, living as they do, in two absurd worlds and participating in absurd situations. The director, Cosmin Chivu, shows a clear adeptness with the material and paces things nicely.
A special mention must be made of Justin West's scenery design. The set is at once chaotic and rhythmic, versatile and shapeable for two very distinct plays while full of details exclusive to either one in such a way that excites the imagination before anything else takes place upon the stage.  The Playhouse Theatre Company warrants sincere praise for turning the spotlight on a neglected phase of an American master's career and providing a fuller picture of Williams's art in its entirety.