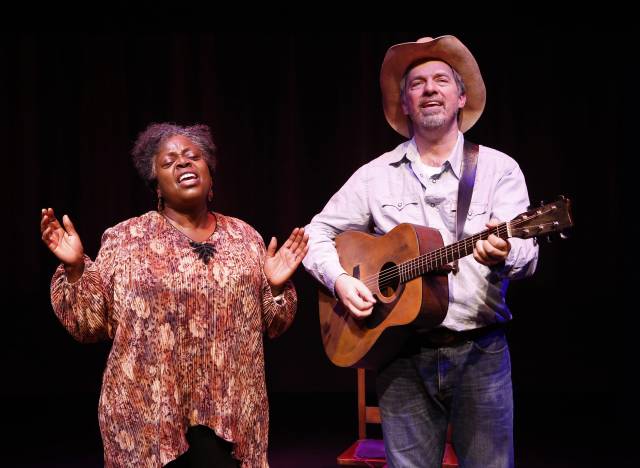 It's the year 1979 and when we first meet Osceola Mays (Lillias White) and John Burrus (Scott Wakefield) they are in a Texan airport waiting room, making time before their flight to Paris departs. Mays, an African American widow, and Burrus, an all-American-type cowboy, have been selected to represent "Texas in Paris", by bringing their music to the French capital. Neither of them have ever performed professionally, and while Mays cherishes this as a time to explore a new world, Burrus refuses to even try the croissants. Onstage, similarly, Mays has very little to worry about before she's delivering soulful performances of classics such as "Wade in the Water", meanwhile Burrus reveals to have more stage fright than one would imagine. As directed by Akin Babatundé, Texas in Paris makes for a delightful duet, as we see White and Wakefield play off each other.
At times, the play by Alan Govenar, tries to turn them into an "odd couple" for comedic relief and has them talk to each other, only for them to discover how little they have in common. Mays sees little trouble in socializing with a white man, but Burrus reveals he has rarely spoken to a person of color. These situations unsurprisingly aren't half as interesting as when we see them separated. In several beautiful scenes the stage is divided in half using rear projections that let us know Osceola and John are sitting in different rooms, and it is here were the play's magic happens, since it's in these tiny moments without any forced dialogue that we see how much these two have in common.
As Mays, White brings to the stage a soothing sense of wisdom, we see how much she has lived through, and are mesmerized by her childlike will to be surprised by the world around her. Wakefield makes for a caddish charmer, whose insensitivity is rooted on pure ignorance. Predictably the show has them bond over music, what's unpredictable is the energy that fills the stage when these two larger-than-life forces come together in "Will the Circle Be Unbroken", giving us a glimpse of Eden indeed.